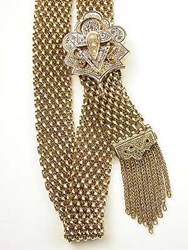 Topazery's newest spotlight bracelet is vintage yet has a chic, modern feel just like the one J-Lo's boyfriend picked out for her birthday.
Atlanta, GA (PRWEB) September 18, 2013
When Jennifer Lopez returns to the "American Idol" judging panel this upcoming season, viewers will likely notice her wearing some new bling on her wrist. Antique jewelry boutique Topazery is now spotlighting a vintage bracelet similar to the one J-Lo received for her birthday. The Victorian inspired vintage bracelet Topazery has selected features a buckle flavor like the one boyfriend Casper Smart picked out for his Jenny from the Block.
According to a July E! News report, Smart recently showered his ladylove Jennifer Lopez with "some birthday affection in the form of vintage jewelry. His choice of present included "a '70s yellow gold and diamond chain link bracelet paired with a '40s gold and diamond ring, both accented with a flashy buckle motif."
For J-Lo fans who want to emulate the starlet's new jewelry look, Topazery Jewelry has just selected a similar vintage bracelet as its current showcase piece. "The jeweler who sold Jennifer Lopez's boyfriend the vintage bracelet explained that Smart was looking for something that was vintage yet had a chic, modern feel," explains Topazery's spokesperson. "With a gold tassel that flirtatiously drips from its buckled edge, our Victorian inspired vintage bracelet offers all the elements Smart was looking for."
Smart hand-selected J-Lo's vintage bracelet, opting for something he "felt she would wear all the time and could go with everything," E! News explained. And Topazery took that wear-it-anywhere flexibility into consideration when choosing its latest spotlight. Like Lopez's birthday present, the antique jewelry boutique's vintage bracelet can be dressed up or down.
"It's made of 14k gold," the company's spokesperson elaborates, "so it is perfect for fancy nights out on the town"—or under the stage lights in the superstar singer's case. "At the same time, its fringe and fleur de lis accents are casual enough that the bracelet wouldn't be out of place in the office. In fact, I could even see this vintage bracelet being paired with a pair of jeans and cowboy boots. It really is that versatile," she concludes.
Although Lopez is known for her red carpet looks, she also designs a casual clothing line for Kohl's department stores. Informal pieces like jeans and motorcycle jackets feature prominently in the Fall 2013 collection. Topazery's vintage bracelet would accessorize well with those looks.
For more information on how to get Jennifer Lopez's new vintage jewelry birthday look, contact Jan Walden at (678) 528-8901. To browse Topazery Jewelry's full selection of vintage bracelets, rings, necklaces, pins and brooches, visit the company online at http://www.topazery.com/.