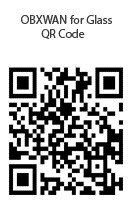 Kitty Hawk, NC (PRWEB) September 18, 2013
SkyeNet Wireless Communications today announced opening OBXwan, a 60 mile long Wi-Fi network that covers the Outer Banks of North Carolina, to all Google Glass devices for the duration of the Google Glass Explorer Program, at no charge. Starting September 16, 2013, any user with Google Glass can connect the device to any of the over 300 OBXwan access points in the Outer Banks, by being in range and scanning a QR code that Google Glass uses to join a network. The QR code is available on SkyeNet Wireless webpage (http://www.skyenetwireless.com) and allows for an easy connection by Glass Explorers. OBXwan access points offering access to Glass users will be broadcasting a special network name (SSID) – "OBXWAN for Glass".
OBXwan is a premium public access Wi-Fi system, with accounts sold at daily, weekly and monthly intervals. Company officials, while testing Google Glass compatibility with their network, discovered that the current version of the Glass operating system makes web authentication difficult for Glass users.
SkyeNet's management found that Glass presented a unique opportunity to its users to be able to explore the historic areas of the Outer Banks while having their Glass devices connected to a high speed Internet connection.
Kitty Hawk, one of the seven towns of the Outer Banks covered by OBXwan, is the site of the first powered flight.
SkyeNet Wireless Communications, established in 2004, is a privately held, New York based wireless data communications engineering firm specializing in large scale wireless data distribution and support systems. OBXwan, in continuous operation since 2005 covers 60 miles of the Outer Banks and is one of the United States largest privately held Wi-Fi based outdoor networks. Serving the residents and visitors of OBX, users from across the country and around the world have relied on OBXwan for accessing the Internet for 8 years.
For more information contact SkyeNet Wireless at info(at)skyenetwireless(dot)com. Media inquires at media(at)skyenetwireless(dot)com.