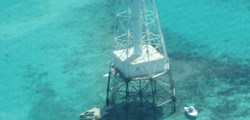 Islamorada, FL (PRWEB) September 18, 2013
Not even the moon jellies can stop over 100 die hard swimmers to accomplish an 8 mile swim around historic alligator lighthouse. When Lighthouse Larry swam the course designated as a trial for the inaugural swim for Alligator Lighthouse, he never thought so many swimmers would be up to the challenge of what is being billed as one of the most challenging open water swims ever.
The swim itself sells exactly what open water swimming is about: it features warm salty waters that could experience swells should the weather not hold up, the Atlantic Ocean boasts a plethora of moon jellyfish which also create a risk to swimmers, not to mention the scenery and fauna the swimmers will encounter as they swim over alligator reef and circle the historic lighthouse just over 4 miles from shore. A swim of this magnitude in perfect conditions can take an average swimmer just under 5 hours, Saturday's forecast and current trends could make the swimmers endure a grueling 6 hours.
The exciting weekend for the endurance swim community begins on Thursday evening during the Islamorada art walk, where lighthouse Larry will be showcasing his replica alligator lighthouse. On Friday, the open water weekend continues as the friends of the pool host a swim session in the morning, Jon Olsen hosts a swim clinic in the early evening, and Morada Bay hosts a signature pasta dinner at night.
The swim on Saturday starts off the beach at the luxurious Moorings resort at 8am sharp with awards and an after party to follow at Morada Bay.
If you would like to register for the event or simply support this amazing inaugural swim, visit swimalligatorlight.com. Registration is available online through Thursday evening and in person between 4pm and 8pm at Founders Park in Islamorada on Friday.