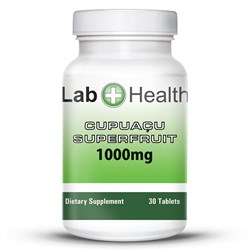 Hailing from the Amazonian rainforest, Cupuacu is a fruit known for its powerful antioxidant qualities, which help boost your immune system, improve the look of your skin and hair, and can give you back that youthful glow
Pompano Beach, Florida (PRWEB) September 19, 2013
Cupuacu 1000mg from Labhealth announces its official launch with a discounted rate of $14.99 (regularly priced at $19.99) on Amazon. The dietary supplement promotes a more youthful and healthier looking skin.
Labhealth is the first company to bring to the market a 1000mg dosage for Cupuacu, harnessing the full potential of the Cupuacu fruit.
The supplement is 100% natural and contains no drugs. Women and men simply take two capsules per day to combat the signs of aging. This pure fruit has 11 unique flavonoids and is a great source of fiber, phosphorous, and the Vitamins A, B and C.
Cupuacu 1000mg is now available at Amazon (http://www.amazon.com/Cupuacu-Amazonian-Superfruit-Capsules-Labhealth/dp/B008YWMMVQ), Sears, Rakuten, Bonanza and BuyBuySocial for convenient and easy purchase.
About Cupuacu
Cupuacu 1000mg is the Number 1 Cupuacu dietary supplement. It is not only known to boost your immune system, it also makes you appear young, healthy, and fit.
For more information, visit http://www.cupuacu.org/.