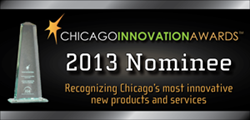 Chicago is experiencing a monumental shift in innovation activity.
Chicago, IL (PRWEB) September 19, 2013
Maura Braun of MyDesignerOnline.com was honored as a nominee at a reception hosted by the Chicago Innovation Awards and presented by Comcast Business on September 9, 2013. These awards recognized the time, money and risk involved in developing and launching a new product or service.
According to the Chicago Innovation' Website: (This is) the largest annual celebration of innovation in the Midwest. Chicago's business and civic leaders come together to honor the creative spirit of the Chicago region by recognizing the most innovative new products and services introduced in the market.
Ms. Braun joined 561 other nominees competing for the 12th annual Chicago Innovation Awards, which represented a 44% increase over the 390 nominees from 2012. According to the Awards Committee, "Chicago is experiencing a monumental shift in innovation activity... seeing more new products, services and businesses than ever before." The reception's guest emcee was Ron Gleason, Voice of the Chicago Bears and Director of News and Program at WBBM News Radio 780 and 105.9 FM.
In addition to the nominees, the reception included many from Chicago's innovation community: investors, corporations, start-ups, academics, government and non-profit leaders. Entertainment was provided by Redmoon Theater and Chicago Boyz Acrobatic Team.
MyDesignerOnline.com is exactly the type of business the Awards Committee is talking about. After 25 years of interior design experience, Maura Braun launched her innovative online interior design service. Her website makes the services of a professional interior designer available to anyone with an Internet connection. Filling out a simple form begins the process of turning a ho-hum room into a showplace. After evaluating the space, the function and the lifestyle of the client, Ms. Braun presents the MDO Master Plan. This plan includes drawings of furniture layouts, space plans and details, as well as a three-dimensional rendering, including color choices, materials and furniture. This gives a complete picture of how the finished room could look. Also included are detailed product specifications with links to each product, as well as a list of vetted subcontractors. Finally, a complete budget for the project is outlined to avoid costly surprises. For clients who want a little more help, Maura offers a Design Coaching option, giving weekly advice and guidance via Skype.
For further information on the Chicago Innovation Awards, please see their website at http://www.chicagoinnovationawards.com. For further information about Maura Braun, please see her website at http://mydesigneronline.com.