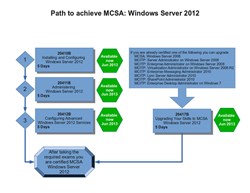 At Hatsize, we specialize in delivering robust labs that meet customers' most complex virtual training needs. - Andy McBride, Hatsize VP Operations
Calgary, AB (PRWEB) September 18, 2013
Hatsize, the leading cloud-based training lab provider for software and hardware products, today announced that it is now providing advanced labs for Microsoft 10750 and 10751 courses in addition to its existing portfolio of turnkey labs for Microsoft and VMware courses.
Advanced Microsoft System Center Courses Require Robust Labs
Microsoft 10750A and 10751A courses train students on some of the most advanced concepts related to managing and operating (10750A) and configuring and deploying (10751A) private clouds with System Center 2012. As a result, these courses are very resource intensive and require high-performance servers. Therefore, it is extremely important that training organizations who want to provide these higher end Microsoft courses select a vendor who provides robust lab servers.
Hatsize Specializes in Robust Labs
Since it was founded in 2000, Hatsize has specialized in developing and delivering robust labs used for virtual training. Unlike other vendors, Hatsize provides robust labs that include:

Instructor tools and controls to enable remote viewing and management of student labs
Global datacenters to deliver better lab performance, more capacity and distributed capabilities
Complex lab support to easily schedule and configure even resource-intensive courses
Testing by certified instructors to ensure Hatsize labs are fully compatible with course material published by Microsoft and VMware
24 x 7 x 365 support to ensure training environments are ready anywhere in the world when they are needed
"At Hatsize, we specialize in delivering robust labs that meet customers' most complex virtual training needs," said Andy McBride, Hatsize VP Operations. "Because we are focused on training and have worked with many leading global training organizations for many years, the Hatsize platform has many advanced training capabilities built-in. Some of these capabilities include: instructor controls that allow an instructor to see all of their students' lab activities, over-the-shoulder mentoring if a student needs one-on-one assistance, system reset capabilities that allow a student to repeat a lab as needed, and more."
Hatsize Offers New Microsoft 10750A and 10751A Labs
The Hatsize Microsoft Training Solution now supports these courses:

10750A: This 5-day course covers how to manage and administer the private cloud, and describes how to monitor key infrastructure elements and applications that run within the private cloud
10751A: This 5-day course covers private cloud configuration and deployment with Microsoft System Center 2012
In addition, Hatsize provides labs for five other Microsoft MCSA Windows Server 2012 courses. For a complete list of Hatsize labs for Microsoft courses, go to Hatsize Microsoft Training Solution.
About Hatsize
Hatsize is the leading global provider of cloud-based training labs for software and hardware products. As a cloud service, Hatsize has successfully delivered over 2 million hours of hands-on training sessions for some of the world's fastest growing technology and training organizations including Symantec, Juniper Networks, New Horizons, MicroTek, AFI Expertise and Certification Partners.