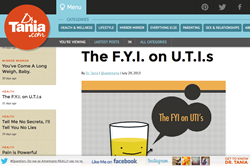 I can't expect that other people are going to take this knowledge and this information, and do the job that I would like them to do. I need to step up!
Annapolis, MD (PRWEB) September 19, 2013
Dr. Tania Howard, Doctor of Chiropractic, has officially launched http://www.DrTania.com as of this September 2013. The blog will target women of all ages, including the uber-influential Generation X; the same generation as Sheryl Sandberg whose "Lean In" mentality has encouraged women everywhere, including Dr. Tania to step-up and stand-out. Tania is doing just that by sharing the expertise she has gained in health care, which can be described as simple yet anecdotal, believing that each and every one of us is different. She aims to empower readers with information, enabling them to make decisions about their own health.
Dr. Tania's over twenty-years of experience in private family practice will fuel the blog's range of topics from parenting and pregnancy, to sex and relationships. For readers weary of chiropractic advice, the forefront of her recommendations on the blog will include nutrition and exercise, amongst many other 'good for you' activities.
Formally educated at Life Chiropractic College in Atlanta, Ga - Dr. Tania accredits her health expertise and vision to learning alongside industry experts, as well as the years spent working with patients and their families at her practice in Annapolis, Md. She has found that, "patients not only want to know how to care for their spines, they also want to know how to eat healthier, lead better lives, and pass the same values and qualities on to their children." This blog is Dr. Tania's way of getting out of the 'four walls of her office,' so she can take the health knowledge and insights she has accumulated to the masses, and as she puts it, "teach one-to-many."
The self-professed 'Dr. Oz meets Bethenny Frankel,' has no plans to filter her opinions regarding subjects discussed on her site, either. When it comes to parenting, Dr. Tania is a strong believer in holistic healthcare practices and openly voices her support for natural labor, pediatric care that offers vaccine-choice, and the benefits of breastfeeding. Though she is already well versed in social media, she drills the importance of balance into her readers with posts like, "Off the Grid Mentality". Dr. Tania even goes as far as to thank "Mr. Tommy Edison" for his invention of the light bulb, but encourages readers not to use this as an excuse to work 18-hour days.
The recent sale of Dr. Tania's 20-year-old practice makes for one successful venture under her belt, and though she continues to treat patients in the practice, her new site is a clear sign that she is well on her way to the next prosperous chapter in her life. Dr. Tania's social presence, appropriately named "@askdrtania," encourages readers to submit questions, comments, and interact via social media, to which she plans to respond on http://www.DrTania.com. Her responses, with their 'risqué' and sometimes 'blunt' approach, promises to entertain readers but educate them as well. She is quickly becoming the voice of reason that brings out the balance and natural well being in all of us.
For more information about Dr. Tania and her blog, please visit her about page.