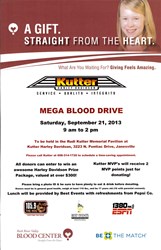 Janesville, WI (PRWEB) September 18, 2013
Blood Drive on Saturday, September 21, 9am-2pm, at Kutter Harley Davidson, 3233 N. Pontiac Drive in Janesville. Lots of prizes, great food and fun with your friends from Kutter Harley Davidson, 1380 ESPN, 105.9 The Hog and Best Events Catering.
Donating blood is safe and simple. You are most likely able to donate if you are at least 17 years old (16 year olds may donate with parental consent), weigh at least 110 pounds and are in general good health. Persons taking medications are not necessarily disqualified.
The Rock River Valley Blood Center serves as a centralized, community blood center to hospitals in Boone, McHenry, Ogle, Rock, Stephenson and Winnebago counties.
For more information or to make an appointment to donate blood, please call toll free 877-RRVBC-99 or find RRVBC on the web at http://www.rrvbc.org.