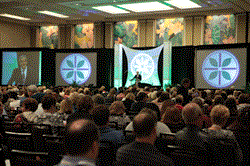 Alexandria, Va (PRWEB) September 18, 2013
MEDIA ALERT
WHO: National Hospice and Palliative Care Organization
WHAT: 14th Clinical Team Conference and Pediatric Intensive
WHEN: Thursday, September 26 – Saturday, September 28, 2013
WHERE: Sheraton and Westin Hotels at Crown Center, Kansas City
Conference Highlights:
Mark Nepo, poet and philosopher
Opening Plenary: The Healer's Call and Self-care – Holding and Listening
Thursday, September 26, 8:30am – 10:00am.
Nicholas A. Christakis, MD, PhD, MPH, physician, researcher and social scientist
Plenary Session: Connected—the Surprising Power of Social Networks, How They Shape our Lives and Impact the End of Life
Friday, September 27, 8:30am – 10:00am.
Joan K. Harrold, MD, MPH, FACP, FAAHPM, hospice medical director
Afternoon Plenary I: When the Patient is Clearly Terminal, but the Diagnosis Isn't
Friday, September 27, 1:15pm – 2:30pm.
Brian Carter, MD, neonatologist
Afternoon Plenary II: Evidence-based Neonatal-Perinatal Palliative Care
Friday, September 27, 1:15pm – 2:30pm.
Exhibit Hall – featuring 70 vendors and organizations
Thursday, September 26, 5:00pm – 7:00pm; and Friday, September 27, 7:00am – 1:00pm.
From Kansas City to Africa – a special fund-raising event hosted by FHSSA that celebrates US and African partnerships; Friday, September 27, 6:30pm – 9:30pm.
The conference is presented by NHPCO in cooperation with the Missouri Hospice & Palliative Care Association.
NHPCO gratefully acknowledges the following organizations for providing support for the 14th Clinical Team Conference and Pediatric Intensive: Hospice Pharmacia, the Gold Conference Supporter; Brighttree, Purdue, Suncoast Solutions, The Corridor Group, Community Health Accreditation Program, Inc., Correct Care Solutions, and Home Healthcare Solutions.
Members of the professional print and broadcast media are invited; social media professionals or industry media may register at the advanced conference rate. Check in at conference desk or contact NHPCO.