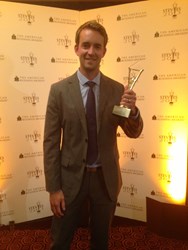 With our innovative approach to cloud storage we hope to set a new standard in user privacy and accessibility.
MOUNTAIN VIEW, Calif. (PRWEB) September 17, 2013
Bitcasa, the inventor of infinite and secure storage across devices, was named Best New Consumer Product of the Year at the 2013 Stevie® Awards Gala in the Consumer Services category. Bitcasa was awarded for its Infinite Storage Drive, which enables consumers to safely store, access, and share infinite amounts of photos, videos, music on any device without having to worry about running out of space.
"This is truly an honor and a testament to the hard work of our team," said Luke Behnke, Director of Product at Bitcasa, who accepted the award at last night's ceremony. "With our innovative approach to cloud storage, we hope to set a new standard in user privacy and accessibility."
More than 100 members of eight specialized judging committees determined Stevie Award placements from among the Finalists during final judging this year.
What makes Bitcasa a winning storage solution for consumers?
1. Infinite Storage: Users will never run out of space no matter how many photos, songs or films they have. Users can also free up space on their devices for apps and games by moving other big files off to Bitcasa.
2. Vault Security: With patented client-side encryption, all files are encrypted before it leaves the PC. Not even the Bitcasa team can view user files – it is bank-grade security and ultimate privacy.
3. Fast Sharing: Sharing files has never been faster. With a simple 'Send to Friend' web link, recipients can click to start streaming any song or video, or view entire photo albums of any size – gigabytes simply no longer matter.
4. Time Machine Back-up: Automatic back-up requires no effort on your part and ensures all your files are protected and have time-machine versioning.
5. Simple Mobile Streaming: All files can be accessed on any device via a browser or Bitcasa app. Pick your song or video, and it is instantly streamed to your mobile device. That is the future of storage, simplified.
Bitcasa infinite storage is available in 11 languages on iOS, Android, Mac desktop, Windows Desktop, Windows RT and the Web.
About The Stevie Awards
Stevie Awards are conferred in four programs: The American Business Awards, The International Business Awards, the Stevie Awards for Women in Business, and the Stevie Awards for Sales & Customer Service. Honoring organizations of all types and sizes and the people behind them, the Stevies recognize outstanding performances in the workplace worldwide. Learn more about The Stevie Awards at http://www.StevieAwards.com.
About Bitcasa
Founded by former Mastercard and Mozy employees and backed by top-tier investors, including Horizons Ventures, Pelion Venture Partners, Samsung Ventures and Andreessen Horowitz, Bitcasa is redefining how consumers are storing and accessing their data. Bitcasa offers access to the Infinite Drive across all devices; supported clients are Windows, Mac, Android, iOS, Windows RT, and the web. Users never have to worry about running out of disk space again; they can save, access, and share an unlimited number of documents, pictures, music, and movies from any device. Everything is encrypted locally and backed up in the cloud, so user data is always safe and secure. For more information go to http://www.bitcasa.com.