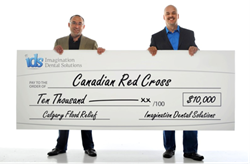 It is truly inspiring to see how this city has come together to help those in need.
Calgary, Alberta (PRWEB) September 25, 2013
"As a Calgary company, we were very fortunate that the recent flooding in Southern Alberta did not affect our ability to work and continue business as usual," said David Nolan, President of Imagination Dental Solutions. "So many people were forced to evacuate their homes, unable to go to work, or were experiencing extraordinary challenges. We feel extremely blessed to live and work in here in Calgary so we decided it was important to help in the relief effort."
IDS's parent company Studio Y Creations Inc. (SYC) was asked to help with a last minute request from the Calgary Exhibition & Stampede (CES) for a parade entry that reflected the spirit of the city. "We had very little time to work on this request but we wanted to help," says Mr. Nolan. The idea was to come up with an entry that showcased the 'Hell or High Water' slogan adopted by CES for its fundraising efforts after the recent flooding. "We offered to build some giant letters that spelled 'Hell or High Water' for volunteers to carry in the parade. We were able to take all of the money budgeted for the project and donate it to The Canadian Red Cross. The Calgary Exhibition & Stampede was thrilled with our plan for the proceeds, so with the help of our great staff facing an impossible deadline, we got to work."
Calgary has proven to be a very resilient City after the flooding and many businesses have helped in different ways. "It is truly inspiring to see how this city has come together to help those in need. Calgary is a great City to do business in so we hope our donation to the Red Cross in some small way encourages other local businesses to do their part as well," said Mr. Nolan.
The Canadian Red Cross has been instrumental in helping Albertans during this challenging time.
"Our ability to respond to the needs of those left vulnerable as a result of a disaster is dependent on the generous support of individuals and businesses," said Sue Phillips, Director General of the Canadian Red Cross in Western Canada. "The donation The Canadian Red Cross received today from Imagine Dental Solutions will help ensure that Albertans who were affected by flooding are supported on their path to recovery."
If you would like to help with the Canadian Red Cross with the Alberta Flood relief, please donate online at http://www.redcross.ca/donate/donate-online/donate-to-the-alberta-floods-fund. To find out more information about Imagination Dental Solutions (IDS) and how they are helping, please visit http:// http://www.imaginationdental.com/IDS/inthecommunity.php.