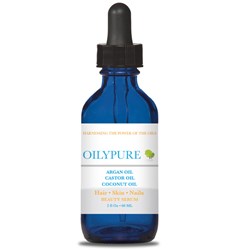 Oilypure is an all natural beauty serum that is a unique blend of the best hair oils found on earth: Argan oil, Castor oil and Coconut oil.
Pompano Beach, FL (PRWEB) September 19, 2013
Oilypure, oil treatment for hair, announces its official launch with a discounted rate of $19.99 (regularly priced at $29.99) on Amazon. The hair oil repairs, strengthens, softens and shines naturally dry hair.
Oilypure is the first company to bring to the market a blend of Argan oil, Castor Oil and Coconut Oil, harnessing the full potential of these three oils. The hair oil is 100% natural: Women simply apply on hair as needed.
Each natural ingredient contain essential fatty acids which improve the health of hair, skin and nails. The facts are that vitamin E is naturally found in these oils. Vitamin E promotes healthy, skin and nails because it's an antioxidant.
Oilypure is now available at Amazon (http://www.amazon.com/Oilypure-Elixir-Uniquely-Formulated-Coconut/dp/B00CSUSAY8), Sears, Rakuten, Bonanza, Etsy and BuyBuySocial for convenient and easy purchase.
About Oilypure
Oilypure is the Number 1 oil hair serum, uniquely formulated with argan oil, coconut oil and castor oil as a hair, skin and nails one-stop solution.
For more information, visit http://www.oiltreatmentforhair.com.