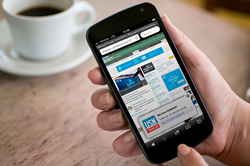 With more than half our users coming to YaSabe via mobile, it's critical to us to understand what they need, and Qualaroo for Mobile Web helps us gather that information effectively.
San Mateo, CA (PRWEB) September 17, 2013
Qualaroo, a leader in software that helps marketers answer critical questions about their website visitors, has launched Qualaroo for Mobile Web, a new mobile survey product that makes it easy to understand what mobile visitors are trying to accomplish, right from the device.
This latest addition to the Qualaroo lineup allows marketers and website owners to tap into insights from a critical and growing portion of their daily audience. In fact, Kleiner Perkins Caufield & Beyer's Internet Trends report shows that people spend as much time on their mobile device as they do listening to the radio–but until now, there was no mobile-friendly solution to collect feedback from mobile web visitors in real time, while on their devices.
In a recent survey conducted by Qualaroo, 89% of professionals responsible for the mobile web experiences of their companies said that they cannot or do not target surveys specifically to mobile visitors. However, 61% of the same group agreed that a mobile web user's needs differ from those of their desktop counterparts. When marketers know what mobile visitors want to accomplish, they can tailor their mobile website to meet those needs, increasing user satisfaction and performance of their mobile sites.
Qualaroo for Mobile Web was designed from the ground up to create the best experience possible for the end user and reflects the company's commitment to making inflow surveys as seamless as possible, no matter the device. While other mobile survey options take people off-task to a new browser tab to answer the survey, Qualaroo surveys are designed to keep the user "on task" and "on page" via an unobtrusive, opt-in survey overlay.
"Our products always start with delivering a positive end-user experience while helping our customers better understand their visitors. Adding mobile to our product line significantly enhances our ability to deliver on that promise," said Sean Ellis, Qualaroo co-founder and CEO. "When you know what people want to accomplish on your mobile site, you can tailor it to better support those needs, increasing user satisfaction and the business value of your mobile website at the same time."
The new mobile survey is already in use by companies who participated in a private beta, including U.S. News & World Report and YaSabe.com. Yasabe, a local search destination catering to US Hispanic, has more than 50% of its traffic coming from mobile devices and the company uses Qualaroo for Mobile Web to better understand the specific needs of Hispanic consumers.
"Our users have grown increasingly mobile in a very short period of time," said Marisela Montenegro, Marketing Manager for YaSabe. "They use their mobile devices to search, shop and redeem coupons. With more than half our users coming to YaSabe via mobile, it's critical to us to understand what they need, and Qualaroo for Mobile Web helps us gather that information effectively."
Qualaroo for Mobile Web is:

Adaptive to the type of device where the survey is shown. The survey knows when it's on a mobile or tablet device vs. a desktop and serves the appropriate survey experience.
Designed from the ground up for mobile devices. The size, format, and interactions are all carefully constructed with the mobile user's needs and experience in mind, including: over-sized buttons, single click answers, and simple text fields.
The first survey for smartphones that doesn't take the user "off-task" by showing the survey in a separate mobile browser tab. As the pioneers of the unobtrusive, in-flow survey for desktop, we extended this functionality to the smartphone with an elegant overlay that the user must opt-in to take.
Learn more about Qualaroo for Mobile Web here: https://qualaroo.com/mobile/.
About
Qualaroo Inc., provides a complete solution for website visitor insights and conversion that allows businesses to understand and improve their website experience to drive better results. Powered by unobtrusive Nudges(TM), Qualaroo collects visitor-created feedback and allows business owners to act on feedback to drive conversion. Qualaroo works for businesses of all sizes and types. Groupon, Intuit and WordPress.com all use Qualaroo to answer the important questions about their visitors in order to make their websites better.