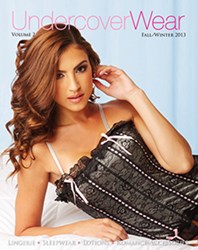 "We're excited to be bringing UndercoverWear and its products new energy and style in 2013." - Barbara Dixon-Mostacci, Product Director, UndercoverWear
Tewksbury, MA (PRWEB) September 19, 2013
UndercoverWear Inc. announced on Monday the company's Fall/Winter lingerie and product lines. The new collection features lingerie, accessories and lotions. Plus two brand new collections: "Objects of Desire" lingerie, "Flirty Body" pheromone lotions, and an expansion of their "Little Black Dress" clothing line with new styles for the season.
"We're excited to be bringing UndercoverWear and its products new energy and style," said UndercoverWear's new Director of Marketing and Product Development, Barbara Dixon-Mostacci. "We know that our target market is women from thirty to fifty, but we want to continue to have something for everyone. Our 'Objects of Desire' are great, sexy items for anyone in their twenties or beyond. The 'Little Black Dress' collection is our foray into fashion beyond just lingerie."
UndercoverWear has experienced growth in 2013 that is rare in the party-plan industry, allowing the company to develop and change at all levels. Dixon-Mostacci was hired in March due to her extensive experience in intimates planning and buying. She has taken over the marketing and product divisions of the company. Tony Fusco joined the team as Director of IT so the company can focus on online expansion and sales. Additionally, the company completely renovated its Tewksbury, MA corporate offices, adding needed space as well as a dedicated photo and video studio for in-house production needs.
"For the first time in years, we are looking beyond party-plan for UndercoverWear" said President Jamie Jamitkowski. "This collection appeals to so many people and we are using every available technology to reach more potential and loyal customers. You can find us promoting the new products on our website, Twitter, Facebook, Instagram and everywhere else."
UndercoverWear's 2013 Fall/Winter collection is available exclusively through UndercoverWear's website and direct sales Agents.
UndercoverWear has been the leader in the home romance party-plan industry since 1977. Started by Walter and Tiffany James, the company has grown from a small local retail outlet to an international multi-million dollar corporation. The company is currently run by Jamie Jamitkowski, President of UndercoverWear and son of Walter and Tiffany James.