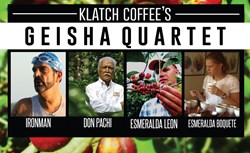 Klatch Coffee is offering a cupping event to give customers a unique opportunity to try three geisha coffees side by side.
Los Angeles, California (PRWEB) September 19, 2013
Rarely do we see multiple Geisha coffees offered simultaneously by one company, but Southern Californian third-wave coffee roaster, Klatch Coffee, Inc., has four available. Currently being offered is a quartet of Panama Geishas: the Don Pachi Natural, the Ironman, the Esmeralda Boquete, and the Esmeralda Leon.
In celebration of their 20th Anniversary, Klatch Coffee is offering a cupping event on October 12, 2013. This unique event will give customers an opportunity to taste three geisha coffees side by side for the nominal price of $25.
The Geisha, more properly Gesha, variety of coffees are distinguished not only because of their rarity but also because of their complex and intense flavor profile. Mike Perry, Roastmaster at Klatch Coffee, notes that "All four are extremely exclusive, with limited roast dates." He goes on to add, "I made several trips to Panama this year [2013] to establish Direct Trade agreements with the farmers in an effort to create a mutually beneficial relationship for us, the farmers and our customers."
The Don Pachi offers an aroma of jasmine, stone fruit, and sugar cane with a blend of orange citrus, berries, and honey in the cup. It is everything you would expect to find from the Geisha variety. In 2011 this coffee sold for $111.50 a pound at auction as the top Panama Natural Geisha. Due to Klatch Direct Trade relationships, Mike is able to offer it to his customers for $59.95 per 8 ounce bag.
Similarly, the Ironman offers a subdued yet intense floral and jasmine-like aroma, a distinct though delicate acidity with bright shimmers of white wine and a fusion of berries, mango, papaya, mandarin oranges and green tea in the cup. This particular coffee was the #1 washed Geisha this year at the Best of Panama Auction selling for $160 a pound. Another Direct Trade coffee, Klatch is offering the Ironman for $49.95 per 8 ounce bag.
The Esmeralda Boquete is a superb non-auction coffee produced by the Peterson Family in Panama. Delicate and sophisticated in the cup with an intense floral, tea-like aroma along with a sweet, bright fusion of berries, stone fruit, strawberry jam and a subtle hint of green tea in the cup. The Peterson Family has won countless first place prizes in International cupping events and their geisha varietal is world renowned.
Last but not least is the Esmeralda Leon which scored 96 points from Coffee Review last year. This is an auction lot that offers jasmine on the nose and peach in the cup with a very high and bright acidity and intensely jammy, juicy cup. Adding another layer of flavor, pineapple makes this one of Mike Perry's favorite crops from the Peterson Family.
In addition to these four, Klatch has four more fantastic geishas coming later this year. Additionally, Klatch Coffee is offering several more coffees from Panama, including one Organic. Hailing from one of the most distinguished farms in Panama, the Klatch Carmen Estate offers hints of caramel, honey, and chocolate in the cup. The Elida Natural, from Producer Wilford Lamatus, is one of Klatch's first coffees from Panama and it offers flavors of light rum with touches of strawberry and blueberry. Finally, the highly anticipated Organic Kotowa Duncan offers toffee, mild citrus and honeydew melon along with hints of berries in the cup.
About Klatch:
Klatch is an award-winning and renowned specialty coffee company and roaster in Southern California. Since 1993, Klatch has been searching around the world for the finest coffee, sourcing via a Direct Trade model and buying only the top 1% of beans available. Mike Perry, Roastmaster, blends a background in chemical engineering with a love for great coffee to balance science and artistry in achieving the perfect cup. Awards for Klatch include being named 'Micro Coffee Roaster of the Year' by Roast Magazine. Klatch Coffee was named 'America's Best Coffeehouse' in 2012. Besides great coffee, Klatch is home to Two-Time United States Barista Champion Heather Perry who finished 2nd in the world.
To learn more about Klatch Coffee and/or to sign-up for the Geisha Cupping Event visit http://www.klatchroasting.com or sign-up in Klatch Coffee stores.
CONTACT
Nzo Tiano
Creative Director
graphics(at)klatchroasting(dot)com
909-981-4031
###