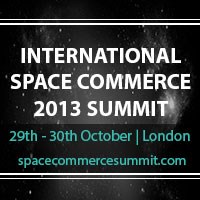 London, UK (PRWEB UK) 18 September 2013
Back in 2001, XCOR was the company to complete the EZ-Rocket, the first of such vehicles built and flown by a non-government entity. X-Racer, their second vehicle, broke a record of seven flights in one day. These and many other successes have made XCOR Aerospace a leader in the commercial space transportation industry.
The International Space Commerce 2013 Summit (ISC2013), that will be held by the global summits organiser, IRN, on 29th - 30th October at the Radisson Blu Edwardian Hotel in London, will welcome as a speaker the Chief Operating Officer of XCOR Aerospace. Andrew Nelson will analyse the best regulatory and socio-economic conditions that Europe can implement in order to spur the growth of European commercial space industries, offering valuable insights from his company's successful experience.
Commercial spaceflights have been in the spotlight for the last couple of years, with spaceports being the front door to enable thousands of people from around the world go to outer space. Given the importance of spaceports for the commercial space industry, the upcoming ISC2013 summit will bring together experts to discuss the commercial sustainability of spaceports in multiple locations around the globe.
The Oklahoma Spaceport, the third largest runway in North America at 13,502 feet and which stands as an alternate landing site for the Space Shuttle, will be participating at the International Space Commerce 2013 Summit, along with Spaceport Sweden, the European pioneering initiative that will become Europe's gateway to space.
Stephen McKeever, Secretary of Science and Technology at the State of Oklahoma and Vice President for Research and Technology Transfer at the Oklahoma State University will be giving insights on the Oklahoma Spaceport operations and along with Karin Nilsdotter, CEO at Spaceport Sweden, will be showing the role of private sector in funding, constructing and developing a nation's spaceport.
The ISC2013 agenda will also include a panel discussion on the insurance of space vehicles,where the CEO of SATEC, Marco Ramadoro, the Space Underwriter of Atrium Space Insurance Consortium, David Wade, the CEO of D-Orbit, Luca Rossettini and the Senior Vice President for Commercial Sales & Business Development at SpaceX, Barry Matsumori will speak about space insurance developments across the next 10 years.
The International Space Commerce 2013 Summit is supported by Mars One, Space Angels Network, Canadian Space Commerce Association, International Association for the Advancement of Space Safety (IAASS), Italian Space Agency – ASI, IETS and is sponsored by OSIDA and SATEC. More information and the whole speakers list can be found on: http://www.spacecommercesummit.com.