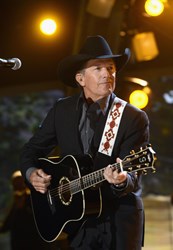 Denver, Colorado (PRWEB) September 18, 2013
George Strait did not become the King of Country Music overnight. He earned it, one hit single at a time. Now, after three decades, he has 60 Number One hit singles under his crown: that's more than any other artist, on any other chart, in the history of music.
Strait has also been nominated for more Country Music Association (CMA) and Academy of Country Music (ACM) awards, and has more wins in more categories, than any other artist. Plus, he has sold more than 68 million albums, including 13 multi-platinum, 33 platinum, and 38 gold. (Source: Wikipedia.com)
But that's water under the bridge. The stickler is, the King is riding into the sunset. At a rare press conference last Monday September 9 at AT&T Stadium in Arlington, the Texas troubadour revealed that his The Cowboy Rides Away Tour will end next summer on a `to-be-announced date' at the massive home of the Dallas Cowboys.
Along with unveiling the final 26 markets he will visit next winter and spring, Strait, 61, revealed he will have special guests on each tour weekend that will be matched with the corresponding tour date and market via a "tweet to unlock" campaign.
Special guests will include his long-time duet partner Martina McBride, as well as Tishomingo resident Miranda Lambert, former Tulsan Ronnie Dunn, Jason Aldean, Eric Church, Sheryl Crow, Little Big Town, Merle Haggard, Lee Ann Womack, Chris Young and others.
"George Strait tickets are very popular, not only here in America, but with overseas aficionados as well," said Felina Martinez at online ticket marketplace BuyAnySeat.com.
"That's why we're proud to be able to offer fans the most comprehensive and continuously updated listing of concert tickets online, with a worry-free guarantee to protect their purchase," said Martinez.
"To access the complete of George Strait tickets we now have available, customers can go to BuyAnySeat.com and search for George Strait – then select their tickets," said Martinez.
George Strait rode to success after his first single "Unwound" topped the charts in 1981.He is known for his unique style of western swing music, bar-room ballads, honky-tonk style, and fresh yet traditional Country music.
The Country crooner just recently notched his unprecedented 60th Number One hit with "Give It All We Got Tonight," the first single from his 2013 album "Love Is Everything."
Strait told reporters at Monday's press conference that he plans to do more songwriting once his touring career is over. "If I have one regret in my career, which has been great and it's hard to come up with one, that would be it, that I kind of quit writing for years. Now I'm getting back into it more, so I'm really enjoying that a lot. I'm writing with my son and other writers, so it's a lot of fun."
MCA Nashville, Strait's label since his 1981 album debut, "Strait Country," also announced that it was extending the superstar's recording contract for five more albums. And in November, he will become the first country artist to receive Billboard's highest accolade, the Legends of Live Award. Ride on King George!
To shop for discount George Strait tickets, visit BuyAnySeat.com.
About BuyAnySeat.com: An online ticket marketplace, BuyAnySeat.com connects sports, theater and other live entertainment fans to an extensive worldwide network of ticket sellers. The site's simplified listings and navigational tools enable fans to easily locate, compare and purchase inexpensive, discounted or lower-priced tickets to virtually all advertised sports and entertainment events around the globe.
The marketplace, which is PCI-compliant and Norton Secured, also provides customers with a complete Worry-Free Guarantee on all ticket purchases. Based in Denver, Colorado, BuyAnySeat.com is a subsidiary of Denver Media Holdings. For more information, please visit http://buyanyseat.com.