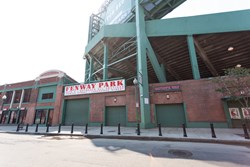 The bollards look great, just as we hoped they would.
Vancouver, BC (PRWEB) September 19, 2013
Reliance Foundry Co. Ltd., North America's premier supplier of bollards, bike racks, and custom castings, is proud to announce that its signature bollard, the model R-7539, has been installed at Fenway Park. Home of the Boston Red Sox, Fenway Park is one of America's oldest ballparks and a nationally recognized historic site. The model R-7539 ductile iron bollard has been installed at many high profile sites across North America to highlight historic architecture and it now helps to define architectural perimeters at one of Major League Baseball's most beloved parks. The installation took place during the week of August 19th and was completed by Lanzillo and Sons Construction, under the direction of Thomas Barriers Inc.
"We couldn't be more excited, "said Reliance Foundry's President and CEO, Brent Done. "The uniquely-designed model R-7539 is our signature bollard and it is now being showcased at one of the most historic venues in all of professional sports. "
Beta Inc. oversaw the design phase of the project and selected the model R-7539 bollard by Reliance Foundry for its classic, architectural style. The model R-7539 is composed of ductile iron and is finished with a highly durable powder-coating. It provides streetscapes with a time-honored architectural form that highlights retro-classic design. The model R-7539 stands 3 feet and features a hollow shaft that allows it to be fit over security posts. When set over anti-ram pipes, it becomes a device that perfectly matches site security with historic aesthetic value. To perform the installation at Fenway Park, threaded rods were set in the interior concrete of the security pipes. Once the concrete had cured, the bollards were placed over the security pipes and secured to the threaded rods with washers and 1" nuts. Each bollard's cap was then fastened to the shaft with anti-theft set screws. The installed bollards help to disguise the presence of the security pipes while creating an architectural highlight that coincides with site's celebrated architecture. The installation was performed without a hitch and the installers note that model R-78539 bollards have delivered the desired aesthetics.
"Our experience with Reliance Foundry was totally positive," said Elaine Grilli, President Thomas Barriers Inc. "The office personnel were professional and efficient. Delivery was exactly as they had promised. Support on the phone and email was immediate and the product quality is excellent. The bollards look great, just as we hoped they would."
Reliance Foundry's bollards are designed to increase safety and security on streetscapes while enhancing their surrounding architecture. They can be finished with one of six different powder-coated color options and they are relatively easy-to-maintain. With Reliance Foundry's catalog of mounting options they can be installed to deliver differing levels of impact resistance for decorative, safety or security applications. The model R-7539 is a traditionally-styled, iron bollard that pays tribute to the historic significance of Boston's beloved ballpark. For more information on this notable installation and to view Reliance Foundry's classic ductile iron bollards, please visit: http://www.reliance-foundry.com/blog/r-7539-bollards-fenway-park-boston