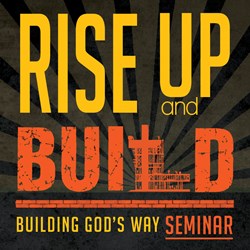 Church buildings are not just for Sundays any more. These facilities should be leveraged to generate revenue that can sustain ministry growth. - Dan Cook, Founder of Building God's Way
Oklahoma City, OK (PRWEB) September 18, 2013
Building God's Way, a nationwide church architect and builder network that provides a broad range of solutions to Christian ministries, will host a free seminar on Thursday, September 26 at OKC Faith Church in Oklahoma City. The event will feature expert speakers in the areas of church design, construction, remodeling, funding, growth, and the latest research and strategies for reaching millennials. Church leaders will learn how to build or retool facilities that are more culturally relevant and allow for expanded ministry opportunities in their community.
The keynote speaker for the seminar will be Terry Bates, Senior Pastor of OKC Faith Church and author of "Positioning Your Church". During more than 30 years of ministry, Terry has personally led three churches to incredible turnaround growth and has coached and trained hundreds of churches around the world on the principles of "Positioning Your Church". He also served as a trainer for Dr. John Maxwell's Million Leader Mandate, in which he was personally involved in training over 250,000 church leaders. Other ministries that Terry leads include T. L. Bates Ministries, Impact 5000 and Christian Leadership International. He is the host of the weekly television and radio ministry "Discover Faith" and is a regular host for TBN and a guest of Daystar.
Michael Goldsmith, Senior Pastor of Timber Ridge Church in Catoosa, OK, will share proven strategies for creating the momentum necessary to expand ministry, break through growth barriers and successfully raise capital funds in any economic environment. As a pastor of more than 30 years, Michael has also been involved in training pastors throughout the U.S. and the world. He specializes in assisting churches in leadership development, capital campaigns, and developing effective church strategies, systems and processes for church growth and health. Michael is also a published author, writing chapters in Living Like Jesus, and Trusting God, both Onward Books publications, and is a guest columnist for the Daily Oklahoman's "Keeping the Faith" column and the Broken Arrow Daily Ledger. He has also hosted the live "Praise the Lord" program monthly for Trinity Broadcasting Network.
Building God's Way Founder and Architect Dan Cook will present a unique, Biblical approach to designing and building ministry facilities that can save 20-30% compared to typical construction methods. Attendees will learn how churches and Christian schools across the country are turning their construction sites into mission fields through a program called "The Ministry of Construction". Dan will also discuss an innovative master planning approach to leverage both land and buildings to generate revenue and sustain ministry growth through creative lease agreements, community partnerships and private equity investment.
Building God's Way will be hosting Rise Up & Build seminars in other cities across the country this fall. For more information or to register, call 866-249-8484 or visit the BGW seminar web page.
About Building God's Way (BGW) - BGW has become a recognized national leader in ministry design and construction through its extensive experience in working exclusively with churches, Christian schools and colleges. Since 1998, BGW has worked with more than 600 ministries nationwide and has developed an unparalleled network of kingdom building services that include church design, church building, Christian school and college architecture, church growth coaching, vision casting, capital fundraising, non-profit development, financial solutions, worship technology, mobile solutions and more. For more information about BGW, call 800-552-7137 or visit the web site at http://www.bgwservices.com.