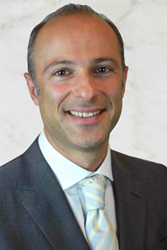 Early detection is imperative when it comes to treating prostate cancer.
Beverly Hills, CA (PRWEB) September 25, 2013
Dr. Kia Michel and Dr. Premal Desai are board-certified urologists at La Peer Health Systems, an outpatient surgery center in Los Angeles. In honor of September being Cancer Awareness Month, Dr. Michel and Dr. Desai spoke about prostate cancer risk factors, symptoms and other important facts, in addition to the recommended cancer screening guidelines.
"Early detection is imperative when it comes to treating prostate cancer," said Dr. Michel, a renowned urologist who specializes in cancer and robotic surgery. "Fortunately, this type of cancer is extremely treatable when discovered early, so it's important for men to be screened at the recommended age."
The American Cancer Society recommends that men (who are instructed to do so by their doctor) begin annual screening for prostate cancer at age 50. However, African American men and men with a father or brother who had prostate cancer before age 65 are advised to talk to their doctors about testing at age 45. Additionally, men who are obese and those who maintain a poor diet are more at risk for developing prostate cancer, and may need to undergo testing earlier.
Screening for prostate cancer is typically done through either a digital rectal exam (DRE) or prostate specific antigen test (PSA), which can determine if a prostate biopsy needs to be performed. If the urologist decides that a biopsy is need for further testing, the patient will need to undergo a small procedure. At La Peer Health Systems, the prostate biopsy is minimally invasive and can be done as a short outpatient procedure.
"Prostate cancer doesn't present many symptoms in its early stages," said Dr. Desai, an urologist with specialty training in laparoscopic and robotic surgery for urologic cancers. "That's why screening at the recommended age is so important. We want to catch the cancer as early as possible."
While no symptoms are present during the early stages of prostate cancer, some of the warning signs that the cancer may be present are blood in semen or urine, hip pain, lower back pain, difficulty urinating and frequent and painful urination. Men who have experienced any of these symptoms are encouraged to speak with their urologists about prostate cancer screening.
La Peer Health Systems is an outpatient surgery center in Beverly Hills, founded by doctors and focused on providing excellent patient care alongside the most cutting-edge medical treatments available. With 50 world-renowned physicians in 14 specialties, comprehensive medical treatment is offered that takes patients from consultation to diagnosis, treatment, surgery, and ultimately aftercare. The 14 medical departments include orthopedics & sports medicine, gastroenterology, head & neck surgery, colorectal & general surgery, podiatry, ophthalmology, pain management, plastics & reconstructive surgery, gynecology, spine surgery, interventional cardiology, bariatric surgery, thoracic surgery, and anesthesiology. Unlike large hospitals, La Peer's unique structure offers extremely personal care in a safe and controlled environment.
To learn more about La Peer Health Systems, visit http://www.lapeerhealth.com.