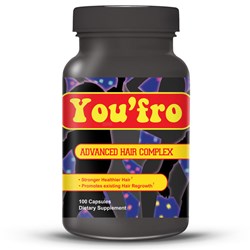 Black hair can have a mind of its own: maintaining healthy hair takes tender loving care and the right product
Pompano Beach, Florida (PRWEB) September 19, 2013
You 'Fro, natural black hair, announces its official launch with a discounted rate of $29.99 (regularly priced at $39.99) on Amazon. As a dietary supplement, it helps grow stronger, thicker and fuller hair with its nourishing nutrients.
You 'fro is bringing to the market a professionally formulated hair complex for African-American and Ethnic Hair. This supplement is 100% natural and drug-free: the safe ingredients of You 'Fro include some of the following: horsetail herb, dulse leaf powder, sage leaf powder, rosemary leaf powder.
You 'Fro incorporates an Exclusive Combination of Performance Ingredients and Botanical Extracts which work to provide Synergistic properties to achieve desired regrowth results for hair and nails too.
You 'Fro is now available at Amazon (http://www.amazon.com/You-Fro-Regrowth-Treatment-Multivitamin/dp/B00CSX6WKO), Sears, Rakuten, Bonanza and BuyBuySocial for convenient and easy purchase.
About You 'Fro
YouFro is the Number 1 Hair Regrowth Treatment Multivitamin Complex for African-American hair.
For more information, visit http://www.natural-black-hair.com.