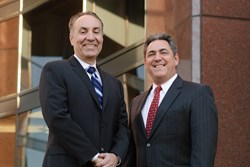 Early recognition by management allows management to engage and consult with professionals who can devise strategies for resolving, restructuring and working out of the crisis. Unfortunately, many business owners choose to not be pro-active which narrows
Los Angeles, CA (PRWEB) September 18, 2013
On September 15, 2008 the largest bankruptcy in United States' history was filed. Five years later, analysts have been looking back on the Lehman Brothers bankruptcy to reflect on its meaning. One analyst considering the historic bankruptcy is Los Angeles Bankruptcy Attorney Daniel J. Weintraub of the law firm Weintraub & Selth. Instead of focusing on the macro-economics of the case, he sees lessons for small business owners.
Weintraub states, "when Lehman filed for Chapter 11 bankruptcy protection, markets collapsed. Millions of people lost their jobs and investors lost billions. Small businesses can learn a lot from this case even if the scale of their struggles are dissimilar."
The impact of that bankruptcy was certainly massive. Lehman Brothers "had a hand in countless subprime mortgages that were a major contributor to the financial crisis of the last decade. When reports of their troubles became public, clients and stock holders began to move their money elsewhere. This company's survival became nearly impossible," Weintraub says.
The company lost nearly half of its stock value on Tuesday September 9, 2008. On that day, in "Wall Street's Fears on Lehman Bros Batters Markets," Jenny Andersen and Ben White of The New York Times wrote that "[w]aves of selling wiped out nearly half of Lehman's value in the stock market on Tuesday, leaving the firm, one of the nation's oldest and largest investment banks, in an all-out fight for survival." After 150 years, the company collapsed nearly overnight.
Many financial professionals were intimately aware of the tactics that Lehman was using and the massive risks involved that lead to its demise. 60 Minutes ran a story on April 22, 2012, in which Steve Kroft interviewed Anton Volukas, a bankruptcy lawyer and former United States Attorney. After Lehman Brothers filed, Volukas lead the federal investigation.
According to his research, the company was utilizing an accounting method called Repo 105 defined on March 12, 2010 by Marketwatch's Simon Kennedy in "Examiner: Repo 105 helped disguise Lehman's ailing health." This method, Volukas and Kennedy argue, allowed them to claim assets that were really borrowed money.
Volukas and other insiders interviewed by 60 Minutes report that the company borrowed $44 for every $1 it had on deposit with no way to pay investors seeking their money. The crisis was exacerbated as countless borrowers began defaulting on home loans. Lehman Brothers saw asset values crash and stock holders sell. By using Repo 105, they may have been trying to conceal the depth of their challenges.
Weintraub says, "most businesses will never have that type of debt. A debt ratio of 44 to 1 is impossible to mask for most businesses. But small and medium-sized businesses can certainly face a balance sheet that is out of whack with bank debt, payroll, tax debt and cash flow that is unable to service the debt."
Like Lehman Brothers, a small business can find itself fighting for survival. Weintraub argues, "seeking out an experienced bankruptcy lawyer immediately may be the best option for helping a business improve. Unfortunately, many business owners choose to not be pro-active. This narrows their options. From what I understand, Lehman Brothers was not as pro-active or as up-front as it could have been."
Any business that is struggling "is best served by seeing a qualified bankruptcy lawyer early. I can usually devise multiple options and restructuring strategies, including those that avoid bankruptcy. With early intervention, there are alternatives." Weintraub goes on to say that "while I can help a client after lenders, taxing agencies or banks have begun to take collections actions, the options are fewer at that point."
Bankruptcy may be the only viable choice. Weintraub says "of course you always want to act with maximum flexibility. But, sometimes, bankruptcy can be a very valuable tool. Debt secured by assets such as real estate or inventory, equipment and accounts receivable can be written down to the value of the collateral. Trade and unsecured debt can be discharged. Debt can be reduced to pennies on the dollar paid over time. This can make bankruptcy attractive."
Lehman Brothers may have survived bankruptcy if they had taken appropriate action sooner. Weintraub argues that "2008 should teach us to deal with financial realities" rather than hoping things will simply turn around. "Perhaps, had management at Lehman been more up front early-on, a restructuring plan could have been implemented. For large and small businesses, being honest from the start and consulting with a bankruptcy lawyer early-on may save a business from a fatal financial crisis."