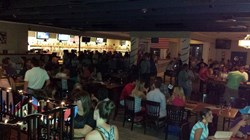 Baton Rouge, Louisiana (PRWEB) September 18, 2013
Leading restaurant furniture manufacturer and distributor RestaurantFurniture.net recently helped the Pelican House Tap Room and Whiskey Bar update its style with beautiful wood bar stools that is sure to make one of Louisiana's most popular bars an even bigger success story.
The Pelican House Tap Room and Whiskey Bar is a marriage of the traditional Southern plantation lifestyle, the French/Spanish architectural accents found in the downtowns and historical districts of South Louisiana's metropolises, and the beauty of the iconic marshes of South Louisiana, home of The Pelican.
The Pelican House aims to provide the Baton Rouge area with an extensive selection of fine beer, spirits, and wine in an upscale, comfortable environment. Their impressive selection and courtyard, coupled with unparalleled service standards, sets them apart from the rest. The Pelican House possesses one of the largest whiskey and beer selections, not only in Baton Rouge, but Louisiana and the South. They also feature a small, well-crafted food menu.
In just a short period of time, The Pelican House has become a very popular hot spot in Baton Rouge. This is in part due to their large selection of whiskey and beers, the friendly staff and ambiance and the relaxed atmosphere.
Comfortable seating was of prime importance for the Pelican Bar's owner, so he opted to go with RestaurantFurniture.net's Schoolhouse Wood Bar Stools. This American classic, which sells for $77, has been utilized by RestaurantFurniture.net's customers in a number of different settings. Its comfort and elegant styling have made it a favorite for casual indoor dining, bars and bistros. Like the other wood bar stools and chairs Restaurant Furniture.net carries, it comes in 5 standard finishes or a finish can be custom made for an additional cost. Customers have the option of choosing an saddle-shaped wood seat or an American made padded seat in vinyl or fabric available in a variety of colors. A custom made seat can also be made for an additional cost. The Schoolhouse Bar Stool comes with a matching chair that is also available in the same finishes and seating options.
The Schoolhouse Bar Stools and chairs are proudly made in the USA, as are many of its other wood chairs, bar stools and tables. This was very important to the owner in choosing furniture for his establishment. Restaurant Furniture.net is renowned for its high quality commercial seating, which is all subject to rigorous testing to meet the high standards of BIFMA (Business Institutional Manufacturers Association) and manufactures its own furniture.
Browse RestaurantFurniture.net's full selection of chairs, barstools, tables, booths and patio furniture at restaurantfurniture.net or speak to a customer service representative at (888) 409-1115.
Contact The Pelican House at (225) 456-5200 or visit their website at http://www.thepelicanbar.com.