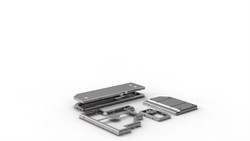 Shanghai, China (PRWEB) September 17, 2013
With increasing mobile device complexity and functionality, there is a growing need for thinner devices with multiple antennas, higher data rates and increasing operating frequencies. This market change is driving increased demand for board level shielding that solves these new electromagnetic interference (EMI) challenges. With that in mind, TE Connectivity (TE) is introducing board level shielding (BLS) products. TE board level shields are stamped or drawn one- and two-piece metal cages that help provide isolation of board level components, minimize crosstalk and reduce EMI susceptibility without impacting system speed.
"Stamping, forming and automation have been TE core competencies for decades," said Frank Basile, product manager, TE Consumer Devices. "With the introduction of BLS, we are able to leverage these competencies into customer benefits that allow faster time-to-market and volume, at competitive prices."
The latest BLS product will use standardized features, such as contact and locking dimples, corner shape and bending radii. Regional field application engineers in the United States, Europe and China are available to provide fast and reliable customer support. Sample turnaround time for customized BLS parts is about 72 hours, depending on complexity.
The company's BLS products are yet another example of TE leveraging global scale and low-cost manufacturing to benefit its customers.
Additional information on TE's BLS products can be found at http://www.te.com/PRCN/BLS.
ABOUT TE CONNECTIVITY
TE Connectivity is a $13 billion world leader in connectivity. The company designs and manufactures products at the heart of electronic connections for the world's leading industries including automotive, energy and industrial, broadband communications, consumer devices, healthcare, and aerospace and defense. TE Connectivity's long-standing commitment to innovation and engineering excellence helps its customers solve the need for more energy efficiency, always-on communications and ever-increasing productivity. With nearly 90,000 employees in over 50 countries, TE Connectivity makes connections the world relies on to work flawlessly every day.
TE Connectivity has operated in China for 24 years. Today, China represents over $2 billion of our sales, and TE has a significant and growing footprint in the country, with more than 30,000 employees, 17 manufacturing sites and sales offices in 14 cities, allowing us to be close to our customers. More information can be found at http://www.te.com.cn and technical support is available at the Product Information Center (PIC) Hotline: (86) 400-820-6015.
Contacts:
Media Relations:
Grace Zheng
TE Connectivity
+(86)-21-33980797
grace(dot)zheng(at)te(dot)com
Product Communications:
Global Product Manager:
Frank Basile
TE Connectivity
Product Manager
+(1) 408-234-7737
fjb(at)te(dot)com
EMEA:
Paul Willems
TE Connectivity
Field Application Engineer, BLS
+31-73-6246497
pwillems(at)te(dot)com
Product Communications:
Americas:
Vu Lac
TE Connectivity
Field Application Engineer, BLS
+ (1) 650-817-5668
vu(dot)lac(at)te(dot)com
Asia/Pacific:
Nam Hoon Kim
TE Connectivity
Field Application Engineer, BLS
+82 10 2844-4862
nhkim(at)te(dot)com