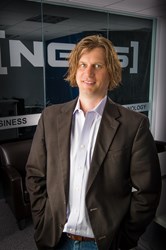 Rob's executive leadership led Vgo Software, NEOS' sister company, to enhance and extend Vgo's tools-assisted modernization services.
Hartford, CT (PRWEB) September 17, 2013
Rob Nocera, CTO and Partner, NEOS LLC, was awarded a Bronze Stevie® Award in the Information Technology Executive of the Year category in the 11th Annual American Business Awards.
The American Business Awards are the nation's premier business awards program. All organizations operating in the U.S.A. are eligible to submit nominations – public and private, for-profit and non-profit, large and small.
Nicknamed the Stevies for the Greek word for "crowned," the trophies were presented to winners during a gala banquet on Monday, September 16 at the Julia Morgan Ballroom in San Francisco. More than 250 nominees and their guests attended.
This year's American Business Awards were presented at two awards events. Awards for marketing, customer service, human resources, and other disciplines were announced in Chicago in June. Last night's event focused on the technology and new product awards categories.
More than 3,200 nominations from organizations of all sizes and in virtually every industry were submitted this year for consideration in a wide range of categories, including Most Innovative Company of the Year, Management Team of the Year, Best New Product or Service of the Year, Corporate Social Responsibility Program of the Year, and Executive of the Year, among others. Rob was nominated in the Information Technology Executive of the Year category.
Rob's executive leadership led Vgo Software, NEOS' sister company, to enhance and extend Vgo's tools-assisted modernization services in 2012. He modernized product capabilities in multiple ways, which helped NEOS grow at the rate that it did in 2012.
Ernst Renner, Chief Executive Officer and Managing Partner, says "Rob is critical to the success of NEOS. His leadership ability, unique skill set and wonderful sense of humor makes Rob a key part of our team. We are very proud of Rob for this significant achievement."
Stevie Award winners were selected by more than 320 executives nationwide who participated in the judging process.
"So many remarkable stories of success and innovation were told in the nominations submitted to this year's American Business Awards," said Michael Gallagher, president and founder of the Stevie Awards. "We congratulate all of this year's Stevie Award winners, and thank them for the inspiration provided by their achievements."
Details about The American Business Awards and the lists of Stevie Award winners who were announced on September 16 are available at http://www.StevieAwards.com/ABA.
About NEOS LLC
NEOS is a management consulting and technology services firm with unparalleled experience in holistic modernization, enterprise data and business operations consulting throughout the US, Europe, the Middle East and Asia. Clients range from large mid-cap companies to the Global 1000 segments including financial services, insurance and media. Services also include process, organizational and operational consulting, enterprise architecture strategies and design, reviews and planning, deployment and data analysis. NEOS is the parent company of Vgo Software that specializes in modernization analysis and conversions solutions.
For more information about NEOS, visit http://www.neosllc.com.
About the Stevie Awards
Stevie Awards are conferred in four programs: The American Business Awards, The International Business Awards, the Stevie Awards for Women in Business, and the Stevie Awards for Sales & Customer Service. A fifth program, the Asia-Pacific Stevie Awards, will debut this month. Honoring organizations of all types and sizes and the people behind them, the Stevies recognize outstanding performances in the workplace worldwide. Learn more about the Stevie Awards at http://www.StevieAwards.com.
Sponsors and partners of The 2013 American Business Awards include the Business TalkRadio Network, Callidus Software, Citrix Online, Dynamic Research Corporation, Experian Consumer Services, John Hancock Funds, LifeLock, PetRays, and SoftPro.