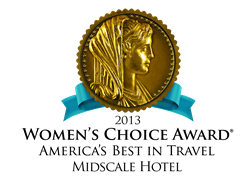 Today's U.S. female consumer values the opinion of others and over half of all women consider their role as a broadcaster, responsible for helping others make smart choices.
Ft. Lauderdale, FL. (PRWEB) September 18, 2013
As the leading advocacy for female consumers, WomenCertified® is delighted to honor Hampton Hotels with the 2013 Women's Choice Award for America's Best in Travel in the Midscale Hotel category. This award designation is based on a national survey among 1,300 women consumers and travel agents who were asked to select the brands they would most highly recommend.
"We are honored that women nationwide have selected Hampton Hotels for the 2013 Women's Choice Award," said Judy Christa-Cathey, vice president of marketing, focused service brands at Hilton Worldwide. "At Hampton Hotels, we pride ourselves on anticipating the needs of our guests, particularly women, whether they are traveling on business or with family and friends. We know our guests expect consistent and high-quality service during every stay, and this award affirms that our approach to service and our overall brand personality, which we like to call 'Hamptonality,' continues to resonate with female travelers."
Today's U.S. female consumer values the opinion of others and over half of all women consider their role as a broadcaster, responsible for helping others make smart choices (2012 Fleishman Hillard Study), so it's not surprising that major brands are focusing on delivering a customer experience women will love. The Women's Choice Award has set the standard for helping women make smarter choices by collectively identifying the brands most recommended and trusted by women and those that deliver a customer experience worthy of her recommendation.

92% of Americans will seek out the recommendation of others before making a major decision (Neilson Research 2012)
9 out of 10 women would 'definitely' trust a brand more if it carried the Women's Choice Award (MedeliaMonitor 2013)
According to Delia Passi, WomenCertified®, Inc., founder and author of Winning the Toughest Customer: The Essential Guide to Selling to Women, the Women's Choice Award honors brands that have demonstrated exceptional service in meeting the needs of women and that receive an extraordinary recommendation rating by women. Delia says, "Recognizing Hampton Hotels as an America's Best in Travel: Midscale Hotel helps women guide other women to make smart choices when determining travel plans for her and her family".
About Hampton Hotels
The Hampton Hotels brand, including Hampton Inn, Hampton Inn & Suites and Hampton by Hilton, is an award-winning leader in the mid-priced hotel segment, serving value-conscious and quality-driven travelers. With over 1,900 properties totaling more than 188,000 rooms in 11 countries, Hampton Hotels is part of Hilton Worldwide, a leading global hospitality company. All Hampton hotels offer comfortable surroundings and a friendly service culture, defined as "Hamptonality," delivered by over 50,000 Team Members and supported by the 100% Hampton Guarantee®, reinforcing its commitment to providing excellent service to both business and leisure travelers alike. High-quality and consistent accommodations and amenities such as free Wi-Fi, free hot breakfast and the latest technology and innovations, such as multi-unit Power Cubes and the brand's signature Clean and Fresh Hampton Bed®, combined with numerous locations worldwide, have made Hampton a leader in its segment and one of the fastest growing hotel brands globally. Please visit http://www.hampton.com, http://news.hampton.com or http://www.hamptonoffers.com for more information and connect with Hampton Hotels online at http://twitter.com/Hampton or http://www.youtube.com/Hampton.
About Women's Choice Award
WomenCertified® is a marketing research firm, home to the Women's Choice Award, the only award that identifies brands that women recommend and serves as a competitive differentiator for businesses. Awards are based on surveys of thousands of women, as well as research conducted in partnership with the Wharton School of the University of Pennsylvania on what drives the consumer experience for women vs. men. To learn more, visit http://www.WomensChoiceAward.com