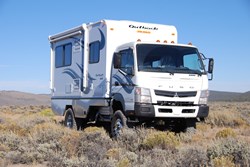 ...very capable, comfortable, affordable, and can take them to places they could never drive in a typical RV.
Bend, OR (PRWEB) September 18, 2013
Last week, America's largest recreational vehicle show in Hershey, PA displayed over 1200 vehicles. Attendees kicked the tires of RVs that could take them across the nation's highways, cruising from one RV Park to the next. However, there seemed to be just as many buyers looking to travel dirt roads as those who prefer to stay on the pavement.
One attention-getting vehicle, called the "Outback Explorer" is a rugged RV engineered from the DNA of the famous EarthCruiser Expedition RV, originally designed and tested on some of the most challenging terrain in Australia. The new Outback is being manufactured in the USA at HOST Industries in Bend, OR. "Every month, the Outback gets more popular," explained vehicle developer, Lance Gillies. "Americans are interested in adventure travel. The Outback is very capable, comfortable, affordable, and can take them to places they could never drive in a typical RV."
Based on the Mitsubishi FUSO 4x4 chassis, the vehicle is priced near $140K. The rugged rig provides users with exceptional reliability and class leading fuel economy courtesy of the DOHC, 4-cylinder diesel engine. Couple this with the exceptional off-road ability and luxurious amenities and there's no doubt that customers will be able to enjoy extreme outdoor adventures with the benefit of a comfortable and safe indoor experience.
"We're thrilled to see the growing popularity of this style of RV," says Mike Rumsey, VP of Sales for Fuso trucks of America. "There's an active group of American travelers who are not interested in the same RV experience as their parents or grandparents. The Outback Explorer uses new vehicle technology and engineering of our chassis to take people to new and exciting destinations. It's an awesome choice for active travelers."
The vehicle employs Mitsubishi's Duonic transmission which supplies continuous power to all four wheels to help maintain maximum traction along with the vehicle's kinetic mounting system for long camper life and a comfortable ride. During the Hershey event, they demonstrated this system by driving one wheel of the Outback onto a spare tire. Even with one wheel elevated, the RV's living area remained perfectly level and the slide-outs operated flawlessly. The basic box section, all welded aluminum and fiberglass camper shell, incorporates two opposing lateral slides, one for the kitchen and the other for the dinette, and includes plenty of amenities, plus interior and exterior storage for all of your gear.
As buyers inspected the Outback Explorer, the popular comment was, "This is just plain cool!" As they continued with a list of possible destinations, their favorite fishing spot off of some remote mountain road, their desire to photograph the Alaskan wilderness, or spending the night on the sand along the Baja coast. The vehicle can definitely get them there, and with comfort, style and a hot shower. After all, there is a limit as to how much most of us need to "Rough It."