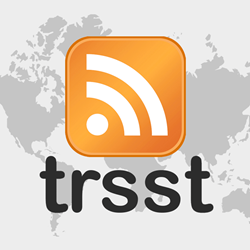 We had a real outpouring of support from privacy-minded individuals and digital rights activists.
Washington DC (PRWEB) September 18, 2013
The upstart social networking platform Trsst gained $65,000 in pledges during a 32-day Kickstarter.com campaign, exceeding its goal of $48,000. Over 700 people backed the project on Kickstarter with an average pledge of $93.
Unlike many Kickstarter projects that promise to produce a physical good upon funding, Trsst's project aims to deliver an open standard for social networking services. In addition to supporting the aims of the project, backers were promised accounts on one such service to be developed.
The project's goal is to make an existing open web standard, RSS, the basis for a decentralized messaging platform where anyone can start a social network whose users can connect with any other users who operate on the same standard.
"The twist is that we use public key cryptography to let people control their own data, signing public messages and encrypting private messages for other individuals or groups," explained Trsst founder Michael Powers, a veteran of the Washington DC startup community.
"All of that happens behind the scenes, so from a consumer perspective it looks and feels just like Twitter or Facebook, except you can friend and follow anyone on any network."
The security and encryption features were particularly timely as revelations of government-sponsored digital surveillance grabbed headlines when the project launched.
As a result, the Trsst project grabbed headlines of its own, starting with high-tech startup bellwether TechCrunch calling it "a Secure Twitter for the Post-Snowden Internet".
"We had a real outpouring of support from privacy-minded individuals and digital rights activists," said Powers. "And I've always counted myself in that camp so that suits me fine."
Now the Trsst project looks ahead to new challenges post-funding. As noted on their Kickstarter page, "now we'll move onto the other hard part: delivering."
Learn more about Trsst and stay updated on the project's status by visiting http://trsst.com.