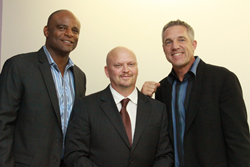 The more people we can get in front of to spread awareness the better.
Phoenix, AZ (PRWEB) September 17, 2013
NFL legends and Pro Player Health Alliance (PPHA) are continuing their stride through the nation on their national "Tackle Sleep Apnea" campaign. The Phoenix based company has made their way to several cities and held multiple events in some states. Since beginning the "Tackle Sleep Apnea" campaign, PPHA has gotten over 160 current/former professional athletes treated including Roy Green, Derek Kennard, Dermontti Dawson, Mike Haynes and Lincoln Kennedy.
"It was overly apparent how grateful and happy these NFL Legends were to get tested for sleep apnea and to get on board with treating the disorder," said David Gergen, President of Pro Player Health Alliance. "The more people we can get in front of to spread awareness the better."
These events are becoming quite the buzz in the sleep apnea community. These free public events are being held to raise awareness of sleep apnea and snoring, by discussing the dangers associated with the deadly disorder.
"We want to graciously thank the NFLPA Former Players for their on-going support for these events. The traction they have helped us make is more than we could have ever asked for," said Gergen. "It's a wonderful feeling to know that you are making a difference."
"I would like to personally recognize and give highest accolades to this group of football retirees for their unselfish provision of time to share their personal experiences and passion about this disorder with the general public. I would also like to acknowledge Gergen as the engine behind this movement. Without his effort this could not have happened," said Dr. Allan Bernstein who held an event with PPHA in January 2013 in Scottsdale, AZ that had almost 500 attendees.
"The Tackle Sleep Apnea campaign has created quite a buzz with the retired NFL guys. I am looking forward to lending a hand to this campaign to boost the awareness of the dangers of sleep apnea," said Dave Krieg former NFL superstar and legendary Seahawks Quarterback.
"We have gone above and beyond for our events and have been able to reach out and get organizations such as the NFLPA Former Players Phoenix Chapter, American Legion, the Veterans of Foreign Wars (VFW), The Phoenix Elks Club, and the Greater Phoenix Swing Dance Club to be a part of it," says Gergen. We are looking to have our next event in New York this winter with additional plans for Colorado, North Carolina and Los Angeles.
David Gergen
As President of Pro Player Health Alliance, he has been a nationally respected dental lab technician for over 25 years. He received the award for "The Finest Orthodontic Technician in the Country" given by Columbus Dental in 1986. He also has been appointed chair of the dental wing of the American Sleep and Breathing Academy, a national interdisciplinary academy dedicated to sleep training and education with over 60,000 members. He has worked for some of the pioneers in the orthodontic and sleep dentistry fields. One of his proudest achievements is receiving The National Leadership award for Arizona Small Businessman of the Year in 2004.
About Pro Player Health Alliance
Pro Player Health Alliance (PPHA) is an organization dedicated to helping former NFL players and the public through providing testing and treatment options for those who suffer from sleep apnea. In addition, the PPHA is dedicated to integrating education and raising awareness, in a fun and memorable way.