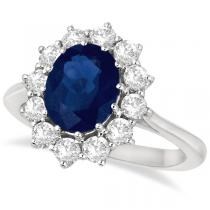 Many couples are looking at alternative bridal jewelry, choosing gemstones or pearls instead.
New York, New York (PRWEB) September 17, 2013
A report from Bain & Co. at the end of 2012 had predicted a 4% increase in sales for the jewelry industry for the coming years, through 2015. With economic uncertainty still looming, even the thought of that increase was put into question. Some companies have reported flat sales, while others have been dealing with dwindling sales numbers.
Dennis Morgan, an executive for Allurez, a highly respected online jewelry retailer said, "We've been enjoying sales increases across the board, with a real upswing in bridal purchases, using our design your own engagement ring online tool. Gemstone jewelry is a close second in our record setting sales. We are hoping that these increases continue as we ramp up for cyber Monday and holiday gift purchases."
Recent reports show that those individuals who are purchasing diamond and gold jewelry are choosing these items for their intrinsic value, using it as an investment tool rather than an emotionally charged purchase. In addition, according to Entrepreneur, international online sales are projected to almost triple over the next ten years, and affluent Americans are expected to increase their jewelry spending at least through the end of the year. These encouraging expectations could mean better profits for an industry so closely tied to the economy and its ever-changing reports on unemployment numbers, individual house-hold disposable income, and the like.
In addition, with the expected increase of diamond prices, due to be about 6% per year through 2020, it's anyone's guess how the jewelry industry will be affected, especially for engagement wedding ring sales. Brian from Allurez continued, "Many couples are looking at alternative bridal jewelry, choosing gemstone solitaires, pearls and other non-diamond engagement rings. In an effort to satisfy the needs of this growing market we are introducing an entire Moissanite collection later this month. This hand-cut jewel is known for its incomparable fire and shine, at a much more reasonable price point."
Based in New York City and serving customers around the globe, Allurez Jewelers is a rising star in the field of luxury ecommerce. Allurez was recently ranked as the number one online-only jewelry retailer by TopTenReviews.com, and placed in the top three retailers overall. Their team of veteran jewelers specializes in all types of fine jewelry, including rings, 14 karat gold bracelets, and much more. Visit them online at Allurez.com.
Resources:
http://www.entrepreneur.com/article/227519
http://www.nationaljeweler.com/nj/diamonds/a/~30988-IDEX-Online-Diamond-prices-to
http://www.nationaljeweler.com/nj/diamonds/a/~30062-Report-Industry-to-grow-4