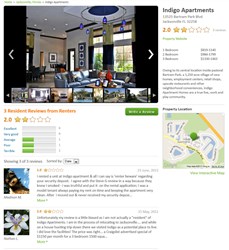 Finding a place to rent sucks, but finding problems after moving in with the place you've rented sucks even more.
Seattle, WA (PRWEB) September 18, 2013
TechStars alumni Phillip Lee and Bryan Leptich are taking the wraps off their latest project and announcing the launch of a new apartment rating and review service called RentMatch in 12 cities: Austin, Boston, Chicago, Jacksonville, Los Angeles, Philadelphia, Phoenix, Portland, San Diego, San Francisco, Seattle and Washington DC. RentMatch combines renter reviews and data from publicly available resources to provide prospective tenants the important details about a property before they sign a lease.
According to Phillip Lee, CEO of RentMatch, the new website will provide users with more transparency when they are looking for a place to rent. Rental reviews from current or previous tenants will uncover anything that a prospective tenant might not notice during a walkthrough, like bad management or appliances that break down frequently. There are several hundred rental websites that list what properties are available to rent, but very few that provide renters with the tools and information they need to choose the best place to rent.
"We're committed to ensuring that there are no unfortunate surprises for renters after they sign a lease," Said Lee. "We've heard stories from many renters who have told us if they had known certain things about a property before they signed lease, they never would have lived there. With RentMatch, they'll be able to research a property and find out the good and the bad before they sign a lease."
The idea for RentMatch came from when Phillip's girlfriend, a traveling pediatric nurse, moved to Seattle from Washington DC. After spending a stressful 3 weeks searching for properties online, responding to ads and visiting more than 20 properties, the couple were able to finally find a place to rent. However, after moving in, they discovered several things that made the unit an unpleasant place to live. The biggest problem was the lack of central air conditioning and ventilation. During the summer, the unit got so unbearably hot and humid every afternoon that anyone inside would sweat profusely just standing there. They were also disappointed to discover that there was no moving elevator and the stairs were awkwardly arranged which made moving in large pieces of furniture impossible and had to buy new smaller furniture. These issues, had they known beforehand, would have affected their decision to rent the unit.
"Signing a lease for a place to rent is no small decision, renters spend on average 30% of their pre-tax income on rent, and some renters spend as much as 50%. That's more than people usually spend on food, health insurance and car payments combined," added Phillip. "For the amount that you spend on rent every month, you should at the very least be satisfied with the place you're renting. Unfortunately most tenants are not happy with the place they're currently renting and cannot move easily without incurring significant penalties for breaking a lease. Not to mention very few renters would want to go through the hassle of moving again. That's why we built RentMatch."
The company models itself after TripAdvisor and wants to be the TripAdvisor for renters. To generate revenue, RentMatch plans on partnering with rental listing websites like Rent.com or MyNewPlace to send them leads, similar to how TripAdvisor provides leads to Expedia or Priceline.
The company is also announcing that Chris Smith, cofounder of Curaytor.com, Chief Evangelist at DotLoop and Inman People's Choice Award winner for Most Influential Person in Real Estate, is joining their board of advisors.
The website, launching today, will cover 12 cities: Austin, Boston, Chicago, Jacksonville, Los Angeles, Philadelphia, Phoenix, Portland, San Diego, San Francisco, Seattle and Washington DC. The startup plans to add a new city every week following the launch.
About RentMatch
RentMatch is a Seattle based company that was selected as 1 of 10 companies to participate in the inaugural TechStars Seattle program in 2010. The startup, cofounded by Phillip Lee and Bryan Leptich, is focused on using big data and user generated content to help renters find the perfect place to live. For more information, please visit: http://www.rentmatch.com