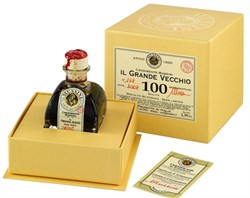 100 Year Traditional Balsamic Vinegar
(PRWEB) September 18, 2013
Gourmet Italian, the industry leader in retail Italian Food, has partnered with M5 Corporation to expand their Mussini brand of Traditional Balsamic Vinegar. This joint venture adds Mussini to the gourmet Italian family of imported and domestic Italian food products.
Typically these types of products to many restaurants and hotels, as well as professional and home chefs across the United States. These vinegars are very valuable to chefs considering that one drop can enhance a recipe so much that it increases the value of the dish, in some cases, by 100%. The 100 year balsamic vinegar is rarely purchased for restaurant personal use, and is usually the gift of choice for a head chef or any extreme lover of great food.
Not sure where to start? Try the 25 year. It is a very high quality, and will most likely have the consumer asking "If a 25 year is that good, then the 50 year must be that much better!" Best for a foodie that enjoys the finer things, paring a traditional balsamic with an Italian cheese plate will keep the guests raving, taking a simple dinner into an amazing experience.
Beyond the Traditional balsamics, Mussini also offers 3 flavors of Infused balsamic vinegar consisting of white-truffle, wild-berry and fig. A small drop of white-truffle balsamic works great with Mac and Cheese, and grilled cheese sandwiches. The Wild-berry and fig are an excellent addition to desserts.
Along with the traditional and infused vinegars, this joint venture adds 10 new flavors of infused Balsamic Glaze. Balsamic glaze is a balsamic reduction to a syrup by extracting additional moisture content through a process of heating, and thus reducing, the balsamic vinegar. This process brings out a more concentrated, much sweeter flavor. These new flavors include Blueberry, Cinnamon, Fig, Garlic, Pomegranate, Raspberry, Truffle, White and Dark which is traditional.
Balsamic glaze can be added to everything from red meat, fish and desserts. The white balsamic is perfect for lighter proteins and vegetables. Heavier proteins such as beef work very well with traditional, garlic and truffle. Truffle glaze is amazing when mixed with burger meat. Using a fruitier glaze for desserts like ice cream and fresh strawberries will help balance the sweetness of the dessert with the acidity of the glaze. The response from customers so far, all feedback has been extremely positive.
Anyone seeking more information on the process in which Balsamic Vinegar is made, what is the difference between Balsamic Vinegar of Modena vs Traditional Balsamic Vinegar of Modena, check out our extensive blog post on everything balsamic vinegar. See that blog post here: What is the best balsamic vinegar?
Gourmet Italian is always looking for new and interesting products related to Italian Food. Companies that sell an item, Italian importers or producers of an Italian style product domestically, send an email (found in the contact section) with information on the Product, the company and company website. Thanks and Caio!