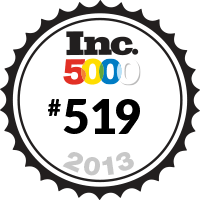 We are honored to make the list again this year and we see continuing growth through the fourth quarter of 2013.
Orange County, CA (PRWEB) September 18, 2013
BookPal is one of the fastest growing companies in the country, according to Inc. Magazine. The popular business publication ranked BookPal 519th out the top 5,000 companies in America in 2013. This marks the second year that BookPal has been named on Inc.'s list, proving that its innovative approach to the evolving book industry is meeting customer needs. Despite challenges to traditional booksellers in wake of eBooks, BookPal has been able to grow revenue by focusing on wholesale books and specifically catering to consumers who purchase books in bulk.
When asked about being featured on the prestigious Inc. list, BookPal founder Tony DiCostanzo said, "We are honored to make the list again this year and we see continuing growth through the fourth quarter of 2013." As a niche retailer, BookPal strives to provide extraordinary customer service and an efficient ordering process to their corporate and educational clients. BookPal is able to offer businesses and schools bulk books at lower than market cost. In the fourth quarter of 2013, BookPal intends to expand its services to include eBook distribution.
BookPal's Inc. 5000 profile reports that the company has experienced 881% growth over the past three years, increasing sales from less than half a million in 2009 to nearly $4.5 million in 2012. Along with the tremendous increase in revenue, BookPal has tripled its number of employees in the past three years and has out-grown two office spaces.
In addition to being 519th on the Inc. 5000 list, BookPal is also honored to place 40th on Inc.'s list of the Top 100 Consumer Products, 91st on the Top 100 California Companies and 42nd among the companies in the Los Angeles Metro Area.
Inc. assesses every privately held company in the United States in order to assemble the list of the top 5000 companies based on revenue and other growth metrics. Initially intended as a gauge to help Inc. readers survey the entrepreneurial landscape, the list has become a significant business staple and a place on the list is a positive indicator that a company is meeting its targeted goals.
About BookPal
BookPal is a bulk bookstore that specializes in selling books of any genre in quantities of 25 or more copies. The company offers over five million current book and movie titles to its business, association, non-profit, educational, and government clients. Book customization services and expedited shipping options help customers worldwide meet their bulk book needs. Founded in 2005, BookPal is headquartered in Irvine, California. For more information, please visit http://www.book-pal.com or call (866) 522-6657 to speak to a friendly and knowledgeable member of BookPal's team.