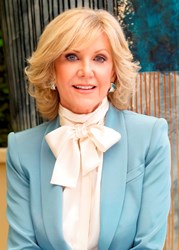 'Bringing the unique Communities In Schools model to scale will be an important way to address America's urgent dropout crisis.' - Elaine Wynn
Arlington, Virginia (PRWEB) September 19, 2013
Communities In Schools, the nation's leading dropout prevention organization, announced today that philanthropist Elaine Wynn has made a $5 million gift to support the organization's mission to provide at-risk youth with a community of support, allowing them to stay in school and achieve in life.
Mrs. Wynn has been a member of the Communities In Schools' board of directors since 2000, assuming the Chair position in 2007. Under Mrs. Wynn's leadership, the organization has focused on data-driven results, including the release of a five-year, third-party evaluation, a return on investment report, and annual program results demonstrating that the organization's cost-effective model is effective in urban, suburban, and rural communities.
"Communities In Schools has a proven track record of success in preventing at-risk students from dropping out of school and helping them to graduate on time," said Elaine Wynn. "Bringing the unique Communities In Schools model to scale will be an important way to address America's urgent dropout crisis."
Through a school-based site coordinator, Communities In Schools connects students and their families to critical community resources, tailored to local needs. By addressing both the academic and non-academic needs of the student, Communities In Schools' staff remove the barriers to learning that cause students to drop out of school and enter an uncertain future.
Mrs. Wynn's latest $5 million investment will fund activities designed to take Communities In Schools' proven model to scale, including: significant investments in the organization's human capital through training and development; public engagement campaigns and awareness building to increase knowledge of Communities In Schools' successful model; and securing public and private resources to deliver high-quality support to every child in need in America.
In 2008, Mrs. Wynn helped establish and fund a $25 million endowment for the organization.
"Elaine Wynn's commitment to education and our most at-risk students runs deep," said Daniel Cardinali, President of Communities In Schools. "Her leadership and service to Communities In Schools has helped establish our role as the nation's leading dropout prevention organization, and will expand our reach to support even more students to stay in school and realize their full potential."
About Communities In Schools
Communities In Schools surrounds students with a community of support, empowering them to stay in school and achieve in life. Working in 2,400 schools, in the most challenged communities in 27 states and the District of Columbia, Communities In Schools serves 1.25 million young people and their families every year. It has been shown through an independent evaluation to be the nation's only dropout prevention organization proven to both increase graduation rates and reduce dropout rates. In August 2013, Communities In Schools launched a pledge campaign inviting people to stand with the students being served; learn more and take the pledge at http://www.cispledge.org or visit the website at http://www.communitiesinschools.org.
About Elaine Wynn
Elaine Wynn has established herself as a savvy business leader, influential philanthropist, and dedicated crusader for children's welfare. She has served as Director of Wynn Resorts since 2000, and has helped guide the company's expansion. Her leadership skills have served her equally well in matters close to her heart. She is actively involved in a variety of community organizations whose priorities mirror her own – the enrichment of children. Mrs. Wynn's commitment to improve children's lives through education has engaged her in numerous leadership roles at the local level as well as the national level. To learn more, visit: http://www.communitiesinschools.org/about/our-leadership/profile/elaine-wynn.