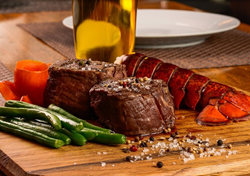 (PRWEB) September 18, 2013
GetMaineLobster.com, a live Maine lobster delivery service providing next-day delivery of live Maine lobster and prepared seafood meals, is offering its customers a 46 percent discount on their choice of seafood selections.
Live Maine lobsters are the perfect option to experience what Maine has to offer and it's a great way to prepare a delicious meal with a loved one or a group of friends. Live Maine lobsters ranging from one pound to 2.5 pounds are available for next-day delivery. The lobsters arrive in a specially insulated box with frozen gel packs and directions on how to prepare and eat live Maine lobster.
GetMaineLobster.com's prepared seafood meals are a great way to "tour" the flavors of Maine seafood. The Jumbo Lobster Tail Dinner for Two, for example, includes two seven- to eight-ounce Maine lobster tails, two Maine lobster cakes, two servings of Maine lobster stew and one 12-ounce heart-shaped triple-chocolate cheesecake. Fans of a surf-and-turn dinner will appreciate the Lobster for Lovers meal, which includes two five-ounce Filet Mignon, two four- to five-ounce Maine lobster tails, lobster stew, two Maine crab cakes and two Maine whoopie pies. This option is available for two or four people.
A wide range of other prepared seafood meals and lobster tail packages are available as well, so take advantage of this generous discount now and experience all that Maine has to offer! The discount does not apply to current specials, but will be honored on all other GetMaineLobster.com retail packages. Upon checkout, simply enter coupon code "46SEP13" in the first field and click "update".
To learn more about GetMaineLobster.com, browse its wide range of seafood offerings, and to access other lobster recipes or view current specials, visit GetMaineLobster.com or call (866) 562-4817. Stay updated and Like us at Facebook.com/GetMaineLobster or follow us at Twitter.com/GetMaineLobster. For even more lobster news and recipes go to JustAddLobster.com.
About GetMaineLobster.com
GetMaineLobster.com, a division of Black Point Seafood and Black Point Gourmet, hand-selects the finest Maine lobster, seafood and beef products for convenient distribution throughout the United States. Their passion is to make fresh, quality seafood readily available to customers across the country, which is why they buy from only the most trusted, well-established suppliers to ensure that they receive the finest products available.
GetMaineLobster.com was selected out of the more than four million small American businesses served by Chase bank to represent its new Platinum Business Checking product for its 2013 national advertising campaign.