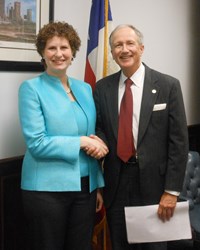 "We are pleased that a lawyer of Jennifer's experience and training has chosen to donate her services to help the children of Harris County," Ryan said.
(PRWEB) September 19, 2013
FisherBroyles, LLP ("FisherBroyles") proudly announces Jennifer H. Davidow's appointment as an Assistant County Attorney of Harris County (Houston), Texas. Harris County Attorney Vince Ryan appointed Davidow in August to work on appeals involving abused or neglected children. Ryan represents the Texas Department of Family and Protective Services in children's protective services cases. His office handles about 3,500 of these cases at any one time.
Davidow partners with Ryan through the Lawyers on Loan Program. Started in 2010, the program united licensed attorneys with the legal departments of government offices on a temporary, voluntary, and unpaid basis.
"We are pleased that a lawyer of Jennifer's experience and training has chosen to donate her services to help the children of Harris County," Ryan said. Davidow graduated with honors from The University of Texas School of Law in 2000, where she served as editor-in-chief of Texas Journal of Women and the Law. As a student, she interned at the Fourteenth Court of Appeals in Houston and the Third Court of Appeals in Austin. Davidow practiced appellate law and complex commercial litigation at Vinson & Elkins LLP from 2000-12. She was promoted to Counsel in 2010. She joined FisherBroyles as a partner in January 2013.
"I'm excited to contribute and help the best way I know how," says Davidow. "I love appellate law, and now that these CPS appeals have to be decided so quickly, I thought this would be a good way to put my skills to use." FisherBroyles echoes Davidow's sentiment. The Atlanta-based firm began in 2002 but opened its Houston office just recently. "We are proud to have an appellate lawyer of Jennifer's caliber on our team. FisherBroyles is pleased to have an opportunity to give back to the Houston and Texas legal communities," co-founder James Fisher says. "They've welcomed us with open arms."
About FisherBroyles, LLP. Founded in 2002, FisherBroyles, LLP is a full-service, cloud-based national law firm with attorneys across the country. Conceived as the "Next Generation Law Firm™", FisherBroyles eliminates unnecessary overhead that does not add value to clients and instead offers a more cost-effective solution to clients across all industries. FisherBroyles has been recognized as a Tier 1 Atlanta firm the last three years by Best Lawyers and U.S. News & World Report and as one of the top law firms in Atlanta by the Atlanta Business Chronicle. Visit our website at http://www.fisherbroyles.com to learn more about our firm's unique approach and how we can best meet your needs.
© 2013 FisherBroyles, LLP. These materials have been prepared for informational purposes only and are not legal advice. This information is not intended to create an attorney-client or similar relationship. Please do not send us confidential information. Whether you need legal services and which lawyer you select are important decisions that should not be based on these materials alone.