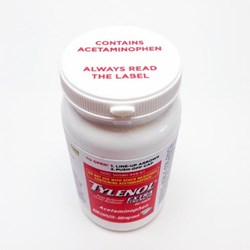 Discover a world of drug free living with improved functioning and better quality of life!
McLean VA (PRWEB) September 19, 2013
Recently, the makers of Tylenol, Johnson & Johnson, agreed to put a warning label on all bottles of Extra Strength Tylenol, stating "Contains acetaminophen. Always read the label." The new labeling resulted from growing concern by the company regarding lawsuits being filed by people suffering liver damage and death associated with the use and abuse of acetaminophen.
In addition to Johnson & Johnson's new warning label, last week, the Food and Drug Administration announced it is requiring stronger warning labels on prescription painkillers like OxyContin and Vicodin, as the government's latest attempt to reduce overdose deaths caused by the long-acting medications.
Dr. Riccardo Tersigni, D.C., CKTP, BA, Clinic Director of Sport and Spine Rehab of McLean, VA blogged recently on the subject in two segments.
"Patients often rely on medications to treat acute and chronic pain, but they should always check with a health care provider first to see if safer options are available. The Doctors at Sport & Spine Rehab are experts in drug free pain relief which is safer and more effective at treating the most common conditions resulting in the need for medications. In fact, according to the American College of Physicians, the most effective treatment for acute lower back pain is spinal manipulation. For chronic back pain, it is a combination of spinal manipulation and exercise. Sport & Spine Rehab provides the perfect blend of chiropractic care and physical therapy to not just get you out of pain, but to help improve your biomechanical functioning in a safe and effective manner."
Dr. Tersigni goes on to say that with the help of chiropractic care, those in pain can "discover a world of drug free living with improved functioning and better quality of life!"
Sport and Spine Rehab provides chiropractic, physical therapy, and rehab services at seven locations in the Maryland and Virginia suburbs of Washington, D.C. and Baltimore.
To view the blogs in their entirety, visit http://www.ssrehab.com.