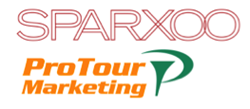 'Our team is excited to work with ProTour Marketing to help create integrated marketing campaigns that will maximize the value of sponsorships.' - David Capece, Sparxoo Founder & CEO
Tampa, FL (PRWEB) September 18, 2013
Branding and digital marketing agency, Sparxoo, announced its agency partnership with ProTour Marketing, a marketing consulting agency that connects companies with marketing opportunities at professional golf events.
This partnership marks an initiative by Sparxoo and ProTour Marketing to create a comprehensive approach to sales and marketing campaigns, with the goal to identify opportunities and further activate company golf and event sponsorships.
Headquartered in Tampa Bay, both Sparxoo and ProTour Marketing specialize in sports marketing. ProTour Marketing has a unique expertise in the golf industry and connects clients with tailored sponsorship opportunities; Sparxoo works with clients in the sports category to build brand awareness and brand experiences that enable client brands to stand out in their markets.
"Our team is excited to work with ProTour Marketing to help create integrated marketing campaigns that will maximize the value of sponsorships," said David Capece, Sparxoo Founder and CEO. "ProTour Marketing's consulting expertise and their extended network in the golf industry provides a great opportunity for us to collectively develop value-added sponsorship programs."
"The team at ProTour Marketing is thrilled to join Sparxoo in this partnership. Sparxoo is distinguished as an award-winning creative agency whose exceptional capabilities will enable us to provide an expanded set of services to our clients. Given each company's unique skill set, this is a great opportunity to partner," said ProTour Marketing CEO, Jay Weiss.
About Sparxoo
Sparxoo, headquartered in Tampa, FL, is a full-service advertising agency specializing in branding and digital. The agency's integrated approach fuses brand positioning, creative design, web and mobile development, marketing, and public relations to bring brands to life. Sparxoo designs award-winning campaigns to champion client brands, from startups to mid-market companies to Fortune 500 leaders. For more information, visit http://www.Sparxoo.com.
About ProTour Marketing
Headquartered in Tampa, FL, ProTour Marketing combines marketing, sales and golf industry expertise to provide a unique service that connects the corporate world with the world of golf. The ProTour Marketing team consists of marketing consultants who work with a wide range of companies to develop and implement a strategic sponsorship plan that will effectively market the company and maximize the value of the sponsorship. For more information, visit http://www.ProTourMarketing.com.