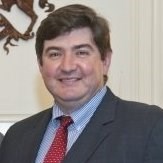 Dan possesses an unparalleled depth of experience when it comes to the oil and gas business.
Chantilly, VA (PRWEB) September 20, 2013
Bowman Consulting today announced that it has hired energy industry veteran Dan Garcia to lead its expanding energy services platform into the Marcellus and Utica shale sectors of the Appalachian Basin. Mr. Garcia combines a deep technical knowledge of the legal and policy issues surrounding shale development with an industry background spanning the United States' primary shale oil reserves. As the new Oil and Gas Team Leader, Mr. Garcia will focus his efforts on leveraging Bowman's industry leading expertise for business development and customer expansion in the oil and gas industry.
"Dan possesses an unparalleled depth of experience when it comes to the oil and gas business," said Gary Bowman, CEO of Bowman Consulting. "Dan knows the business both from the ground up and from the inside out. He understands the problems of the industry and delivers innovative ways to solve them. His understanding of how the oil and gas market is evolving on a local and national level gives Bowman Consulting a tangible advantage over other design and engineering services providers, and we look forward to delivering innovation and top quality technical services to the industry."
"I am proud to be part of Bowman and look forward to this next phase of my career," said Garcia. "As a part of the Bowman team, I have the opportunity to help educate leaders from business, the industry and the political realm on how shale oil and gas from the Appalachian Basin is, and will continue to be, a major economic driver for the region and the United States as a whole. I am pleased to be surrounded by a terrific team of professionals who are recognized leaders in design and engineering services for the oil and gas business."
Mr. Garcia is a six-year veteran of the United States Air Force, where he served as part of an elite special operations aircrew conducting night, adverse weather, and search-and-rescue missions throughout Asia. He is a graduate of Texas A&M, one of the nation's premier energy engineering universities, and has a law degree from the University of Pittsburgh.
---
About Bowman Consulting
Bowman Consulting is a multidiscipline design firm with the singular mission of "delivering success to clients with a sense of urgency." With 25 locations across the country, the company serves a broad array of industries including oil and gas, urban land development, transportation, water resources, and mining. Bowman has garnered numerous awards and recognition for growth, as well as for environmentally sensitive designs. http://www.bowmanconsulting.com.