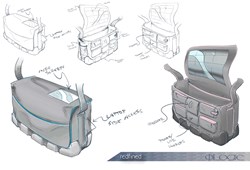 This bag is born of necessity, and I hope it fills all the needs of people who need such a thing in their lives.
(PRWEB) September 23, 2013
If you own a laptop, tablet, or smartphone, then you're familiar with the level of influence these gadgets have in your life. You're also likely familiar with how woefully reliant on battery power these tools are. Admit it; few things are worse than being low on battery with that phone conference, presentation or project looming within the hour.
A number of solutions have been presented to solve this tiresome dilemma, but nothing like The Pandora Carryall by Bad Wolf Outfitters. The carryall features an array of high end technological solutions including a built-in solar panel and backup battery for on-the-go charging needs, a bluetooth activated locator chip that communicate directly with smartphones, and USB ports to back-up data.
.
This project, which creator Ryan Earls claims "emerged out of sheer annoyance with what's currently available", is set to revolutionize the way we work with our equipment by making it work for us.
The Pandora is designed with the carry-all-over lifestyle of the urban explorer in mind, featuring numerous pockets, including an X-ray proof secret compartment and detachable Velcro pockets for phones; With all of these exceptional features, it's inspiring to see that the people at Bad Wolf Outfitters took the importance of style and function required of most modern professionals into consideration.
Bad Wolf Outfitters requires a minimum of $25,000 before production can begin, and Indiegogo backers can expect The Pandora Carryall to be developed and delivered by December of 2013. With pledges ranging from $5 to $1,000, investors will receive rewards for their contributions from homemade thank-you cards from members of the Bad Wolf Outfitters team to personalized limited editions of the carryall once it launches.
For more information on the prototype design of The Pandora Carryall, the Bad Wolf Outfitters team, or to issue feedback, visit badwolfoutfitters.com today, or to help fund this project, visit the Indiegogo Campaign.