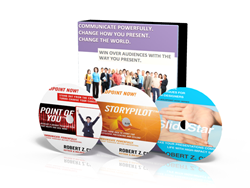 This course was designed for those who struggle with presentations, from creating a compelling point of view to a solid story structure to great slides. There is nothing like it anywhere on the market today."
Los Angeles, Calif. (PRWEB) September 19, 2013
BoldPoint Now has launched a first of its kind online presentation and sales training system designed to help individuals, managers, and executives become more powerful communicators, presenters, and salespeople.
The new online course consists of 20 "learn at your own pace" eLearning training videos, three ebooks, two template workbooks, and ongoing support. The course training material helps everyone find a distinct point of view, or "compelling brand message," develop a powerful story structure, and create slides that are visually exciting.
"This course was developed over twenty years and is designed for rapid implementation in the real business world," said Robert Z. Chew, founder and developer of the BoldPoint Now System. "My goal is to make everyone the most powerful communicator they can be, through key message development, story and personalization, and through great design techniques for those who are not natural designers."
The course is built upon three books written by Chew: Point of You, StoryPilot, and SlideStar. All are available at Amazon, Barnes & Noble, and other online booksellers, or at http://www.boldpointnow.com. The course is specifically designed for those individuals who want more powerful Microsoft PowerPoint, Apple Keynote, or other slideware presentations.
As part of the online program's launch this month, the normally $397 course has been discounted to just $297, with a full money-back guarantee if not completely satisfied.
"There is nothing like this course anywhere on the market today," said Chew. "After taking this course you will understand how the great presenters inspire, motivate, and sell with such ease. You will become a better presenter faster than you ever thought imaginable."
To learn more go to: http://www.boldpointnow.com
About BoldPoint Now
BoldPoint Now LLC is based in Los Angeles and was started by marketing communications executive, author, and lecturer Robert Z. Chew to help executives, individuals, and organizations become more effective communicators and presenters of key brand and sales messages. As a result he authored three books, Point of You, StoryPilot, and SlideStar, the basis of the BoldPoint Now System and new online course now available at http://www.boldpointnow.com