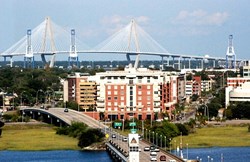 It is the rare combination of time-tested ideas, contemporary amenities and location that makes Bee Street Lofts the perfect residential opportunity.
Charleston, SC (PRWEB) September 27, 2013
The market for new condo homes on the peninsula has reached an important milestone. Certified Residential Specialist, Josephine Traina, announces that Bee Street Lofts has officially sold out 108 units. Built in the boom of the economic downturn, Bee Street Lofts survived when others didn't and is recognized as "the" place to live in downtown Charleston, South Carolina.
"Bee Street Lofts has always been in a better position than competing projects on the peninsula as the project benefited from experienced Houston-based developer Bomasada Group and its principals who oversaw the project from its inception," said Josephine Traina, well-known broker with Carolina One Real Estate. "With over 50 years of development experience and an established national reputation of creating quality projects, Bomasada has facilitated the effective supervision of all phase of the development, construction and management of the Bee Street Lofts."
The stylish urban loft , located in the medical district, first introduced architectural concepts such as stained concrete floors and exposed ceiling utilities, to name a few, to the Charleston market. The innovative ideas that were brought to life in the Bee Street Lofts, makes it a one-of-a-kind building on the peninsula.
Though the economy has still not made a full recovery, Bee Street Lofts has continued to hold its values and attract buyers, mainly medical professionals, who occupy over 50% of the building. Sales continue to hold steady, despite the roller coaster ride of the real estate marke,t and resale units are selling rapidly.
"It is the rare combination of time-tested ideas, contemporary amenities and location that makes Bee Street Lofts the perfect residential opportunity. There may be other urban-inspired places to hang one's hat around town, but none with the success of Bee Street Lofts," said Josephine Traina.
Josephine Traina holds the position of Director of Sales and Brokerage of the project, working closely with the Bomasada team to develop marketing strategies that have time-proven results. Josephine, using her extensive experience in both onsite sales for new construction as well as all aspects of residential resale, has dedicated years to the project and provides exceptional customer service at every level. "Without Josephine at the helm of this project, we never would have achieved such excellent results," said John Gilbert, Executive Vice President of Bomasada.
About Josephine Traina, ABR, CRS, GRI, PMN, SRES:
Josephine Traina, broker in Georgia and Florida, is a Broker Associate with Carolina One, and she is a member of the Charleston Trident Association of Realtors® as well as a Realtor® of Distinction for 2010, 2011 and 2012. With over 25 years in the Real Estate industry, Josephine Traina is a licensed broker in South Carolina and Georgia. As an accredited buyer's representative, a graduate of The Realtor® Institute and a senior Real Estate specialist, Josephine is dedicated to understanding clients' individual needs and putting them at the center of the process while providing exceptional real estate experiences. To learn more about Josephine Traina and Carolina One Real Estate, visit http://www.charlestonwelcomehome.com/.