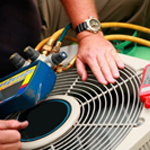 Louisville, KY (PRWEB) September 24, 2013
The 2014 issue of The Old Farmer's Almanac predicts the Ohio Valley region will experience above normal temperatures next summer. Armed with that information, Louisville's Air Comfort of Kentucky, Inc. advises homeowners should prepare their heating and cooling systems now for the hot summer ahead.
What is the best way to do that? They provide the following tips:

Have an HVAC professional inspect the unit. Schedule a professional contractor to inspect, clean and tune-up the air conditioning system now so any repairs that need to be done will be completed before summer starts. Most HVAC contractors will have more time on their hands during the fall months than they did during the busy summer months, so they can provide more personal attention.
Replace outdated or broken units. Fall is a great time to purchase a new air conditioning unit as demand is low and supply is high. Lines are shorter at the store and consumers are more likely to find a bargain as manufacturers are motivated to sell existing models to make room for next year's models.
Stock up on filters. By having extra filters on hand, there will be no need to run to the store in panic when the first hot day hits for fear of breathing dirty, unfiltered air at home. Be sure to change the filters regularly throughout the summer to ensure the system operates at maximum efficiency.
For more advice on how to keep your heating, ventilation and air conditioning systems running at their best, contact Air Comfort of Kentucky, Inc. at 502-498-4264 or visit http://www.aircomfortofky.com.
About Air Comfort of Kentucky
Air Comfort of KY has been proudly serving the greater Louisville area since 1976. Air Comfort of KY is a family-owned company offering quality professional service and sales.