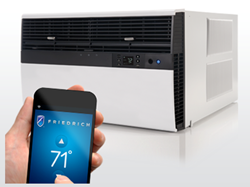 This is an incredible gesture of generosity for someone as far away as Texas to think so highly of kids and education to do something like this.
Bement, IL (PRWEB) September 19, 2013
Children in this rural community have air-conditioned classrooms for the first time since the schoolhouse was constructed in 1899. The relief came Tuesday, when volunteers installed eight room air conditioners donated by the Friedrich Air Conditioning Company, based in San Antonio, Texas.
The Bement Community Unit School District No. 5 was forced to dismiss classes early during the first week of school, when temperatures inside the brick building soared into the 90s in late August. With indoor temperatures continuing to reach the 80s and 90s this month, Friedrich's executive team in Texas decided to ship free air conditioners to Illinois to offer the school relief after reading an Associated Press article that went across the national wires.
"We really took this situation to heart and felt we had to do something to help the Bement community," said Wink Chapman, Friedrich's vice president of sales and marketing.
Located halfway between Decatur and Champaign in central Illinois, the school has an enrollment of 385 students in grades prekindergarten through 12. The Friedrich room air conditioners will be used in classrooms that serve 134 elementary school children.
"This is an incredible gesture of generosity for someone as far away as Texas to think so highly of kids and education to do something like this," said Sheila Greenwood, superintendent of the
Bement Community Unit School District.
Habegger Corporation, Friedrich's Midwest region distributor, helped to facilitate delivery of the systems, while Sub Zero Heating and A/C of Decatur will provide support moving forward. "We're proud to give back to the central Illinois community this way," said Brad Svoboda, a Sub Zero Heating and A/C spokesman.
Prior to the donation, the community had long hoped to purchase air conditioning for the school, but the cost had been prohibitive due to budget cuts and declining enrollment. "Research shows kids test better when they have a more comfortable climate, and teachers teach better, too," said Greenwood. "This is a huge thing for our town and our school district."
About Friedrich
Founded in 1883, the San Antonio-based company has manufactured room air conditioning units since 1952. It remains the sole room air conditioning manufacturer in North America. Friedrich's newest line of products includes the Breeze ductless split system, the Kühl WiFi-enabled commercial-grade room air conditioning system, and the sleek consumer friendly Chill. Friedrich air conditioners are hardworking and long lasting. Constructed of the highest quality components, Friedrich products are built to exacting standards and are among the quietest and most energy-efficient available. If you demand the best, it has to be a Friedrich.