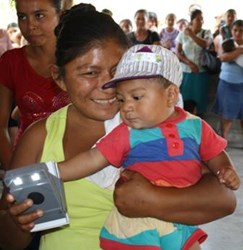 Getting solar lights to families living with kerosene is the first step.
(PRWEB) September 17, 2013
Nearly one quarter of the world population lives without access to electricity or safe light. As a result millions suffer from burn injuries each year. Most of them are children. These families see by kerosene lamps, candles and open flames indoors, all of which are dangerous and toxic. According to the World Health Organization respiratory illness is the #1 cause of death in children under 5 years of age that live in areas without access to electricity.
Rotarians are taking action to change this. Working with the Grid Earth Project , a 501 (C) 3 Charity, founded by Rotarians, safe solar light is being provided to those forced to live off the grid, all over the world.
While a Club in Austin is providing light in Central America and Kenya, The Rotary Club of Jersey City is providing light in Cameroon. Clubs from Washington D.C. to Los Angeles are evaluating projects ranging from Jamaica to the Philippines. It's a worldwide problem requiring a worldwide solution.
The Grid Earth Project is working with WakaWaka to achieve this. WakaWaka Lights provide enough light to fill a dark room for hours. They can be charged from indirect sunlight, eliminating the need for costly rooftop solar panels and they are lightweight and portable so they can be taken where needed easily.
Providing a light to families individually allows each to determine their own course for improving their lives. Light is a tool to build a better life. Many families spend a large part of their income on kerosene or candles. Solar lights eliminate this cost and help break the cycle of energy poverty forever.
WakaWaka and Grid Earth have introduced a new web-based fund raising program for Rotary which supports the work of the Grid Earth Project while raising funds for other Rotary Club projects at the same time. For more information contact: info(at)GridEarth(dot)org.
Every night children all over the world struggle to see clearly and to breathe clean air, while their families struggle just to exist. Rotarians are saving lives, promoting education and ending energy poverty worldwide.