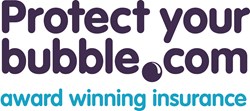 Protect Your Bubble takes a look at the new iPhone 5c and the coveted iPhone 5s and the new features for each.
ATLANTA, Ga. (PRWEB) September 18, 2013
The Apple announcement last week made quite an impression on the consumer marketplace. Whether or not the "techies" were surprised by Apple's announcement (thanks to all the rumors and leaked photos), it's safe to say that many consumers are excited by the two new devices launching later this week. Protect Your Bubble takes a look at the new iPhone 5c and the coveted iPhone 5s and the new features for each.
iPhone 5c
Rumors circulated for months about the possibility of a new, lower-cost smartphone device by Apple. And the rumors are true, thanks to the iPhone 5c. Among the features mentioned in the Apple announcement, a more powerful battery life and a wide screen video are features many users will enjoy. And there's another feature that is gaining a lot of buzz: the new, vibrant look.
Stephen Ebbett, president of Protect Your Bubble, states, "We predict that this more affordable device will likely gain the support of a younger audience. Especially with the slew of colorful phone options." And colorful they are! The device will be available in green, blue, yellow, pink and white.
According to Apple, "5c is beautifully, unapologetically plastic." The back of the device is composed of a hard-coated polycarbonate material and the inside of the phone is built with a new steel-inforced construction method. The iPhone 5c 16GB is available now for pre-order for $99 and the 32GB will be available for $199, both with a two-year contract. Outside of the carrier subsidy, the iPhone 5c starts at $549.
iPhone 5s
In terms of cosmetics, the iPhone 5s will offer new color options of silver, grey, and gold. And in addition to the new look, Apple boasts three noteworthy new features in the iPhone 5s: A7 chip, Enhanced Camera, and Touch ID.
During the Apple announcement the speed of the iPhone 5s was described as "a huge leap forward in mobile computing performance. It starts with a brand new system on a chip called the A7. A7 is 64-bit, the world's first and only such CPU in a smartphone." Basically, the new device will compute at a very, very fast speed.
Secondly, the camera has been enhanced, making phototaking on the iPhone an even better experience than before. It has a 15 percent bigger active sensor area. And according to Apple "bigger pixels = better pictures. Our sensor has 1.5 micron pixels." The enhanced camera also features a flash which has two LEDs and photo-editing capabilities allowing users to use Instagram-like filters on their photos.
The third feature is Touch ID. The rumormill has been abuzz for months about this coveted feauture, which was confirmed by Apple last week. According to TechCrunch "the Touch ID fingerprint sensor is capacitive, 170 microns thin, has a 500 ppi resolution, scans sub-epidermal skin layers, and has 360 degree readability (no matter how you train the sensor to read your finger, it can read it from any rotation)." It's a nice security feature, but that won't keep consumers from damaging the sensor. And not to mention, drops and spills can wreak havoc on the pricey device. Just how pricey? The iPhone 5s 16GB goes for $199, 32GB for $299, and 64GB for $399, with a two-year contract. Its starts at $649, sans contract.
Before investing in these pricey gadgets, consumers should consider smartphone insurance. ProtectYourBubble.com offers smartphone coverage that includes loss, theft, accidents and damage and provides replacement devices or reimbursement quickly. For more information, visit ProtectYourBubble.com.
Protect Your Bubble
Headquartered in Atlanta, Protect Your Bubble is available online, via mobile app or phone, allowing consumers to understand, buy and, most importantly, protect what enriches their lives. Find Protect Your Bubble USA on Facebook or Twitter (@PYBUSA) or visit ProtectYourBubble.com for more information or to get a two-minute quote today.
###
Media Contact
Protect Your Bubble USA
press(at)protectyourbubble(dot)com