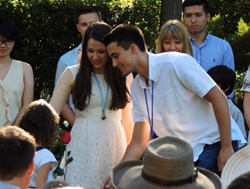 This beautiful and often moving ceremony honors these two classes, but also initiates a relationship between the students that often lasts a lifetime.
Northridge, CA (PRWEB) September 17, 2013
Highland Hall Waldorf School opened its 58th academic year by welcoming its incoming 1st and 12th graders with Rose Ceremony. During this longtime tradition at the school, a senior is paired with an incoming 1st grader and hands him or her a red rose to welcome the child to academic life at Highland Hall.
"This beautiful and often moving ceremony honors these two classes, but also initiates a relationship between the students as 'special friends,'" explains Lynn Kern, administrative director at Highland Hall. "It is an opportunity for our 1st graders to feel cared for as they begin their academic journey at the school, and for our seniors to demonstrate leadership and compassion as role models to their younger friends."
Through school sponsored activities during the year, such as pumpkin carving, lunches, and more, the bonds between these students strengthen into friendships that often last a lifetime.
The circular nature of this tradition is completed as 1st graders present roses to their special 12th grade friends at the school's final assembly, with good wishes for their graduation from Highland Hall.
The connection between the 1st and 12th grade at the Rose Ceremony is also commemorated through storytelling. This year Karen Grant, Highland Hall high school English teacher and 12th grade class sponsor, shared a story with the first graders about the magic of being unique. Judy Taylor, first grade class teacher, told a story to the 12th grade students about having the courage to make mistakes.
At Highland Hall, main lesson teachers, with the support of various specialty teachers in foreign languages, music, gardening, handwork and movement, stay with their classes for many years, often from 1st through 8th grade. This approach to teaching provides students with consistency and depth in the teaching. 2013 marks Ms. Taylor's third time looping back from 8th to 1st grade.
Highland Hall Waldorf School, located in Northridge, CA, was founded in 1955, and is the oldest Waldorf school on the west coast. It is a private school in Los Angeles providing an independent Waldorf® Education from Pre-school through High School to families throughout the San Fernando Valley and the greater Los Angeles area. Its unique approach to learning successfully addresses the changing needs and capacities of children at each stage of development. Fully 98% of its high school graduates move on to renowned colleges and universities; 42% of Waldorf graduates pursue college majors in mathematics or science. Featuring a curriculum of academically challenging lessons infused with arts and hands-on learning, Highland Hall provides students with a solid academic foundation, the ability to think creatively, a sympathetic interest in the world, self-confidence, and an abiding moral purpose.