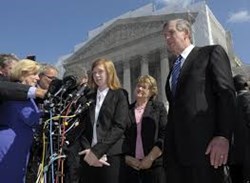 "In the future, courts are going to be required to look more closely at the use of race as a criterion...race will be a factor only if there is no other way (such as income and geography) to ensure a diverse student population." Ashley Baker, CEO
Washington DC (PRWEB) September 22, 2013
In the widely publicized case, The U.S. Supreme Court ordered the controversial hearing of a case that considered the constitutionality of using race in university admissions, to be re-examined by lower courts.
In 2008 Abigail Fisher, a University of Texas at Austin applicant was denied acceptance, she claimed she had been discriminated against because she is white, and therefore does not benefit from the university's diversity policy. In a majority ruling, the court stated that when the U.S. Court of Appeals for the 5th Circuit judged the case, it did not hold the University of Texas at Austin to the burden of strict scrutiny that was prescribed in previous affirmative action cases, such as Grutter v. Bollinger 539 U.S. 306 (2003) and Regents of the University of California v. Bakke 438 U.S. 265 (1978).
Based on the ruling, a leading admissions consulting company, Civica Global, had a strong response to this ruling.
Civica Global CEO Ashley Baker states: "It seems to say that, in the future, courts are going to be required to look more closely at the use of race as a criterion for admission. Race will be a factor only if there is no other way (such as income and geography) to ensure a diverse student population. From our perspective, it's probably the case that applicants from mid-to upper-income families are going to face tougher sledding as admissions criteria rely more heavily on lower family income as a way to ensure diversity. Also, anything that counts as plus in whatever definition of diversity is adopted as an admission standard will help an applicant's prospects and that's going to require a lot of insight by any counseling service."
Baker questioned how this will affect college admissions as a whole, a query that has yet to be answered.
About Civica Global:
Civica Global prides itself on its mission to help students choose, achieve admission to, and maximize opportunity at the colleges and programs that provide the desired career impact. Founded by Ashley Baker, this consulting firm provides hourly consultations and products, including Baker's new guide, Six Weeks to Success. To see what Civica Global can do for you or your student, visit http://www.civicaglobal.com.