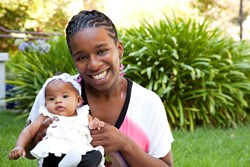 Our goal at Heritage Home is to help these mothers break the destructive patterns of poverty," said Honili Sema, Cityteam Women's Program Director.
San Jose, California (PRWEB) September 18, 2013
On Friday, September 20th, at the Hyatt Regency – Santa Clara, Cityteam will be celebrating its 28th Annual Gala and Benefit for Heritage Home. Cityteam Heritage Home has been saving the lives of homeless and abandoned pregnant women and their newborn babies for over two decades (since 1984). The program not only gives the women a safe home to live in and food but also has a set curriculum for the mothers including: parenting, health and nutrition, cooking, addiction recovery, anger management, relapse prevention, money management, GED preparation, and job skills. The mothers can stay the whole term of their pregnancy and several months after their baby is born until they are able to find stable housing and safe childcare as they go to college or work.
"Our goal is to help these mothers break the destructive patterns of poverty, abuse, and often addiction and equip them to achieve their academic and career goals that will enable them to live self-sufficient, productive lives and become loving, responsible mothers," said Honili Sema, Women's Program Director for Cityteam.
This year's theme of the Gala is "Cherish". It's a time to cherish and hold dear the precious lives of the women and babies that come to us in their time of need. When these mothers arrive at Heritage Home, they are desperate to find ways to transform their lives and become solid, healthy moms for their babies. We cherish these women for making that important decision to want to change their lives. This year's Heritage Home Gala and Benefit is sold out with over 300 people attending this event at the Hyatt Regency in Santa Clara.
PHOTO/VIDEO Meet the mothers that live at Heritage Home at 6:00 pm – 7:30 pm
(other times are available upon request)
DATE & TIME: Friday, September 20th - 6:00 PM– 9:30 PM
ATTENDEES: Gala for over 300 attendees – food – wine – live music & entertainment – inspiring stories – silent & live auction.
SPECIAL APPEARANCE: Jeff Fitzgerald, executive chef of Michelin Star- Dio Deka in Los Gatos, CA. Entertainment by Reggie Coates and the Valley Christian High School Band. Also Robert G. Lee - Hollywood's top warm-up comic will host the evening event.
LOCATION: Hyatt Regency, Grand Ballroom, 5101 Great America Pkwy, Santa Clara, CA
"We are so thankful for everyone that has donated and volunteered at Cityteam Heritage Home throughout our history. This is a vital program that our community needs throughout the Bay Area and across the nation. We are here to equip and mentor these new mothers in becoming healthy moms that can take care of the physical, emotional and spiritual needs of their children as they grow," said Ms. Sema.
Cityteam is a registered 501 3( c ) non-profit organization serving the poor, the homeless, and the lost in San Jose, Oakland, San Francisco in California, Portland, Oregon and Chester, Pennsylvania. Since 1957, Cityteam has been serving people in extreme poverty with a variety of vital programs, and helping them transform their lives, their families and the communities where they live. Cityteam Heritage Home is one of seven programs offered in Santa Clara County. http://www.cityteam.org
Cityteam Heritage Home – 435 North 3rd Street, San Jose, CA 95112 – http://www.cityteam.org/hhgala2013
Cityteam Corporate Headquarters - 2304 Zanker Road, San Jose, CA 95113 - 408-316-6892 - http://www.cityteam.org
http://www.facebook.com/cityteam
http://www.youtube.com/cityteam
# # #