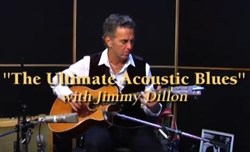 We are experiencing a real resurgence of acoustic music and blues music today.
New York, NY (PRWEB) September 17, 2013
In the video lesson, now available on YouTube, instructor Jimmy Dillon explores one of the most oft-requested guitar styles – how to play the blues on acoustic guitar. Dillon shares some of the deep wisdom of the Delta Blues pioneers like John Lee Hooker, with whom he once recorded a duet. Hooker is widely credited as being the man who brought the Delta Blues to Detroit. In this guitar lesson, Dillon demonstrates a technique he coins the "one-string blues," in which guitarists pluck one string at a time to play an introductory-level blues passage.
"We are experiencing a real resurgence of acoustic music and blues music today," Dillon remarks before teaching guitarists how to play the acoustic blues using the one-string blues technique. By playing only one string at a time, guitarists can leave space between the notes to fit in blues licks, riffs, and improvisational playing to make their songs unique.
The primal, one-string technique was a necessity for the Delta Blues guitar heroes, Dillon explains; the pioneers of the blues in Mississippi often played small clubs without the luxury of a full band or even a drummer. The simple one-string technique gives the blues a recognizable shape, and makes it easier for guitarists to fit percussive and vocal elements into their playing to give their blues playing a rich, full sound.
A Michigan native and founder of the Blue Star Music Camps, Jimmy Dillon plays and teaches a variety of musical styles including blues, rockabilly, Latin, funk, and country music. Dillon has released five albums worth of original material and covers, and as a backing musician has supported artists like Bruce Springsteen and Bob Dylan. In addition to the duet he performed with blues legend John Lee Hooker, Dillon has performed alongside Sting, Joe Cocker, Buddy Guy, BB King, and many more.
GuitarControl.com is packed with resources, video tutorials and lessons, articles, and affordable DVDs to help new guitarists learn and experienced guitarists master their instruments. Guitarists of any experience level find guitar lessons from instructors with a broad array of music backgrounds and styles - blues, jazz, metal, classical, folk, progressive rock, punk, and everything in between. Guitarists can find relatable, easy-to- follow videos regardless of their ability or musical tastes.